Reclamation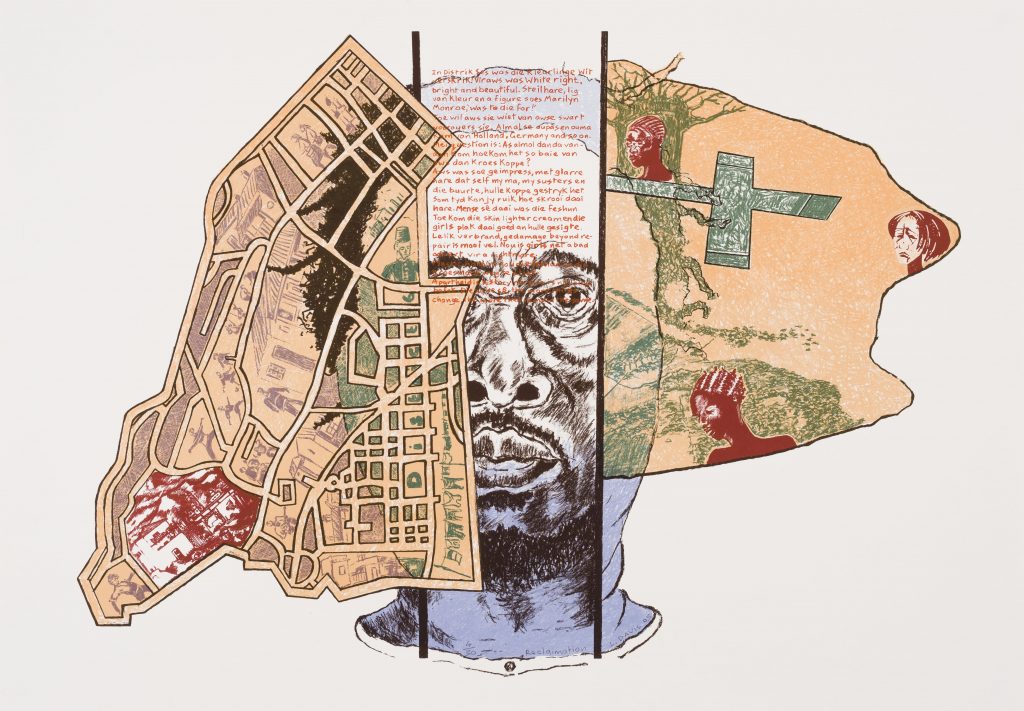 Dimensions: 70×100 cm
In the words of the artist:
'Reclamation' means reclaiming what was forcibly taken. In this artwork, I deal with three facets of my life that gave meaning to me – both in the past and present.
Firstly, the map of District Six (on the left hand-side) represents going 'back'. It is where I was born and it is about taking back what was taken away from us.  It is about reclaiming my heritage and my past.
Secondly, the issue of identity. Apartheid's racist ideology divided us and had a profound psychological effect on our community and family life. I grew up in a community where the issue of skin colour was of primary concern. There was a deep denial and prejudice: white was right, bright and beautiful. Although most people of District Six were of African origins, there was negativity towards these ancestral roots and a deep desire to claim a European identity. In the centre of the artwork, written in the local vernacular over my self-portrait, I express my concern about how people – even my own mother and sister –  wanted to straighten their hair and lighten their skins.
Thirdly, my Robben Island (map on the right hand-side) experience as a political prisoner is where I got my real education. That is where I saw the world in its true perspective: what it is we were fighting for and what it is we were fighting against. All three facets of my life expressed in this artwork gave meaning to me then, and still gives meaning to me now.
Description:
For Davis, "Reclamation" represents his unapologetic delve into the psychology of race, identity and space on his own terms. Upon closer examination, this self-portrait is autobiographical; his reflection on his birth place of District Six, where his family was forcibly removed, and the place of his imprisonment Robben Island where he was held for seven years. Davis's personalised story extends beyond his own life and provokes a desire to engage with and question societal stereotypes. In telling his story, Davis reveals in the local vernacular (written on his forehead) the uncomfortable truths about race and identity in District Six and his own family. Ironically, his confinement on Robben Island becomes a "space of enlightenment". Here, Davis deploys his notable silk-screening skills and techniques to convey a multi-layered effect that visually narrates the nuances of both his past and present.