KwaaiLappies I & II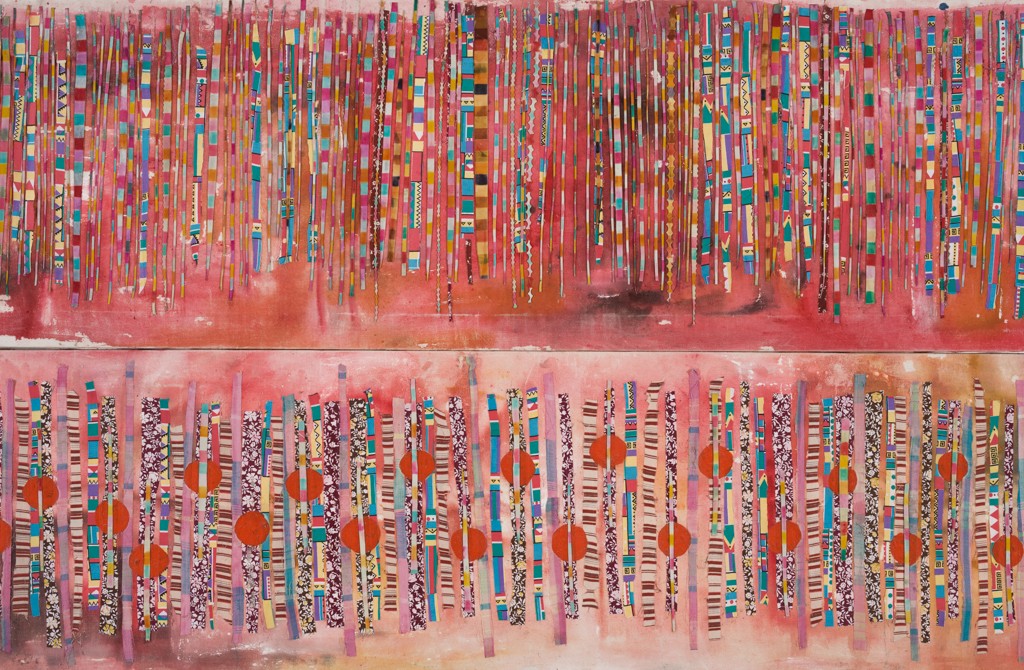 In the words of the artist:
This artwork was produced in a Thupelo workshop, where I first broke away from doing art in a formal way. It opened up my interest in exploring various forms of self-expression: discovering the textuality of paint, surfaces, found objects and mixed-media through the collage techniques. This, for me, was freedom, which did not mean I dismissed what I was taught, but I felt liberated.
The title Kwaailappies is a District Six colloquial expression. 'Kwaai' meaning 'good' and 'lappies' referring to pieces of cloth or rags. I drew my inspiration from the Cape Minstrels' colourful satin clothes. Remnants of their costumes were cut into strips and strung up across streets in District Six, demarcating the territory of each minstrel club. I found these strips of fabric and created this artwork. It reminded me of my heritage.
Description:
Kwaailappies (c.2009) is a reclamation of the authorship of broken histories and the trauma of a lost District Six. This symbolic act of reconstruction – bringing together pieces of found objects, such as fragments of used textile, opened up a fresh and dynamic creative space. It is Davis' way of retrieving what was lost. Simultaneously, this act of reconstruction replaces brokenness with positive hope, reminding us that you cannot own freedom if you haven't dealt with victimhood. Participating in the Thupelo workshops was a seminal juncture for Davis in his art making trajectory. He attributes this as "finally arriving" and an "awakening". As described by artist Ayesha Price in Awakening – The Art of Lionel Davis, Davis had a liberating "moment of realisation that abstraction was the key to releasing inhibitions, and that mixed media was a tool of his resistance."
Davis's rhythmical and insightful use of strips of coloured fabric mixed with paint breathes a new perspective into the District Six Minstrel tradition. Kwaailappies embodies a joyous celebration and reaffirmation of the coming together of the past in the present.