Untitled II & III
Untitled III | 28×76 cm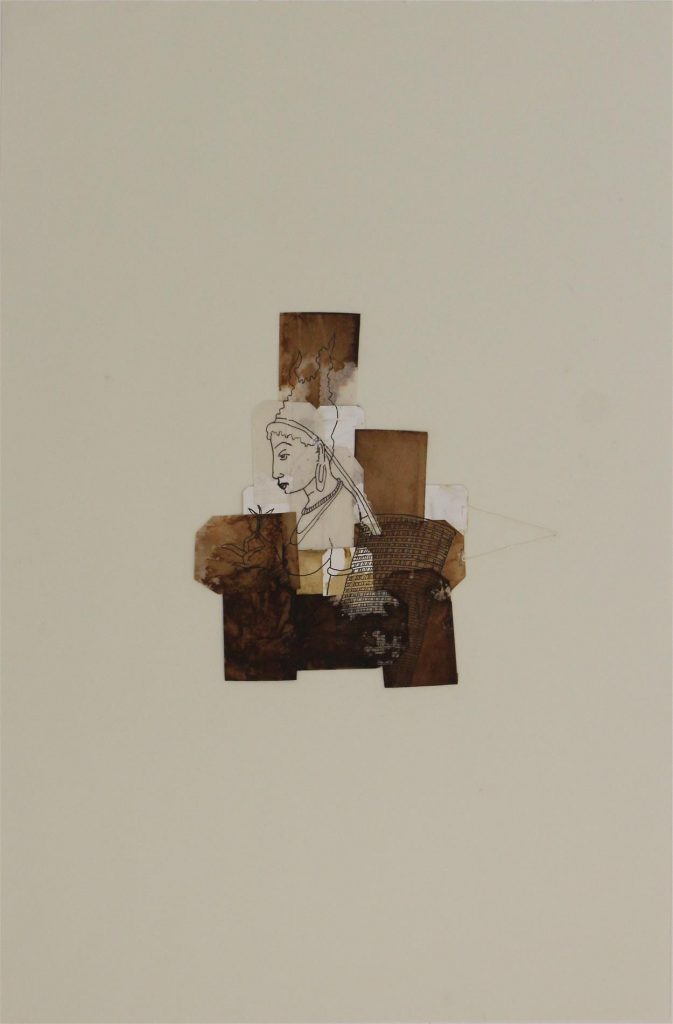 Untitled II | 55×37 cm
Description
With these two artworks, Hanusha explores how being a woman complicated an already difficult experiences of her community.  Plantation workers remain one of the most marginalized groups in the island, with their socio-economic indictors and living standards falling way below the national average. The labour force is mainly women, who pick the choicest leaves with their nimble fingers from the tea bush. In Untitled III, Hanusha infuses her personal memory, the image of her mother with tea basket toiling away on a steep mountain side tea plantation while being pregnant with twins.
'One of my earliest childhood memories is of my twin brother and I weeping inconsolably as we watched our mother through the grimy window, heading out to pluck tea with a huge cane basket on her back…' narrates Hanusha, talking about her work.
Explaining how she came to work with used tea bags, the artist explains, 'When I became pregnant, I kept wondering how my mother had managed to continue plucking tea on the slippery hill slopes with a 20kg basket of tea leaves on her back and twins in her belly. Up to that point, I had been working on a series of installations with tea cups and strainers. I wanted to highlight how the suffering of tea pluckers seeps into every aspect of their lives and leaves an indelible stain on them and their offspring.'
For Hanusha, used tea bags are not an unusual choice of material for her artwork. They are symbolic of the stain she carries; illustrative of her experience and physical habitus. As seen in her artwork Untitled III, her ability to draw evocative objects from her daily existence and memory that are deeply personal and at the same time, collectively representative of the history of her community is what renders 'voice' and 'impetus' to her work.
In Untitled II, she infuses her personal memory, the image of her mother with tea basket, to one of the most epitomic historical images of Sri Lankan art cannon – the Sigiri Apsara from 5th century AD. (See artwork featured on country page)
These heavenly and feminine figures have been much appreciated by art historians. They are epitomic of the islands sense of art, beauty and femininity. By taking the definitive figure of a Sigiri Apsara and juxtaposing it with the image of a tea plucker, perhaps her own mother, Hanusha transcends the bridge between personal memory and public history. 'Much attention is paid to a group of inanimate women on a rock face while living, breathing women whose sweat and tears prop up our economy, are ignored.' She observes, demarcating a critical space for dialogue with her 'other', namely those who are not plantation workers.