Welcome to Robben Island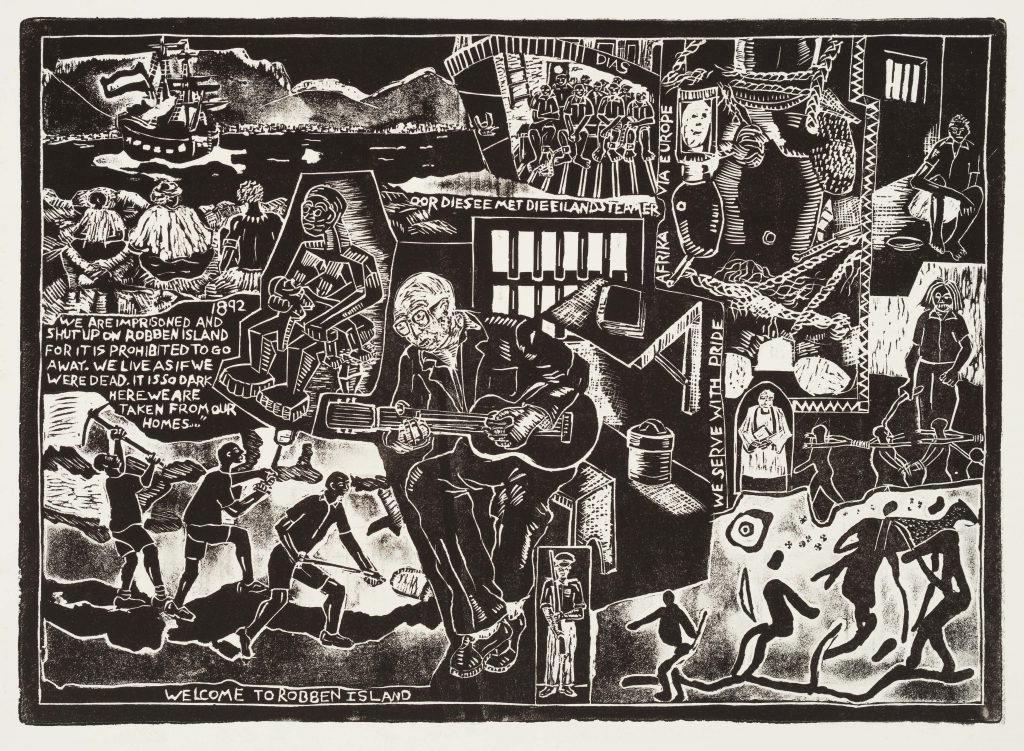 Dimensions: 28.2×30 cm
In the words of the artist:
There is irony in the title, Welcome to Robben Island. This artwork narrates the hardship of prison life that we had to face on a daily basis. It is a reflective visual narrative, telling the story about my different experiences on the Island as a political prisoner, and contextualises the historical oppression from colonialism to apartheid's imprisonment. In this print, I look at the kind of work we did with picks and shovels in the lime quarry. I looked at how we retained our sanity through dance, music and sports. Here you have a prison guard on duty with his gun and a prisoner in solitary confinement. I include images of the Khoisan ancestors and their way of life representing their connection to the island – many of whom were themselves victims of imprisonment. I look at colonialism and the imprisonment of Africans, and at slavery. The visiting priest, whether it was Christianity or Islam, religion had to do with subjugation. The experience of being a prisoner transported from the mainland to the Island on the Dias boat, is very much how the colonialists brought slaves to the Cape.
Description:
This artwork was produced 24 years after Davis' incarceration on the island. Davis's artwork the ability to move in and out of time and space to – an act of "return" – to re-visit, re-tell and reimagine. As part of a triptych, in Welcome to Robben Island (1994) Davis skilfully demonstrates how memory can be reconstructed though a multiplicity of personalised narratives. The artist creates a vignette of collaged stories; speaking to his experiences and the hardship he and many others endured as political prisoners. This experience is represented in dialogue with the colonial and apartheid atrocities that took place on the island which involved both Khoisan and enslaved individuals. In doing this, Davis's deep questioning of the past allows us to develop a critical perspective of the present.