Sri Lanka
General Context
Sri Lanka is an island country south of India, with a population of about 22 million. Strategically positioned at the crossroads of the Oceanic Silk Route, it has had over 2500 years of recorded history, where many cultures and peoples met, traded, settled, even conquered and colonized the island. The diversity of its population today is the result of this historic process: it is home to four major religions in the world – Buddhism, Hinduism, Christianity and Islam, speaks three languages – Sinhala, Tamil and English, and hosts a multitude of different ethnic communities. Ethnically, the country is mostly comprised of the Sinhalese (75%), Sri Lankan Tamils (11%), Moors (9%), and Indian Tamils (4.1%), with other minority ethnicities such as Burghers, Malays, Borahs and the indigenous Veddas, the descendants of the earliest inhabitants of the island. 
Known at different times as Taprobane, Serendib and Ceylon, the island was colonized since the 16th century by the Portuguese, Dutch, and British. It finally achieved independence from the British on February 4th 1948, which is still celebrated as the Independence Day, though the island remained a crown colony until 1972. The struggles did not end there. In the seven decades since its independence Sri Lanka has witnessed cyclic spurts of violence including race riots (1956, 1983), youth rebellions (1971, 1988), natural disasters (Tsunami 2004) and a protracted civil war based on ethnic identity (1983-2009). Attempts at a transitional justice process after the end of the war in 2009 has thus far been rocky and unsatisfactory. The bombing on Easter Sunday 2019, claimed after two days by ISIS, renewed fears about national security as Sri Lanka became part of the larger picture of 'global terrorism'. 
Read more about Sri Lanka:
(History of Sri Lanka)   (Sri Lankan Civil War)                                                        (Novels)
Art Practice in Sri Lanka
Sri Lanka has a long history of visual arts such as painting, sculpture and murals under a courtly tradition. While painting and sculpture can be traced back to 2nd and 3rd century BCE, some of the murals of Sri Lanka' pre-colonial monarchic eras inscribed in 600 CE onwards can still be found in ruins and archaeological sites around the country. Although religious and monarchic art were the most ubiquitous from the ancient era, Sri Lanka came to welcome many cultures from all over the world, being an important port of call in medieval travel. Hence one may find art styles and relics typically from Arab cultures, Europe, and the Far East, as diverse populations passed through its shores.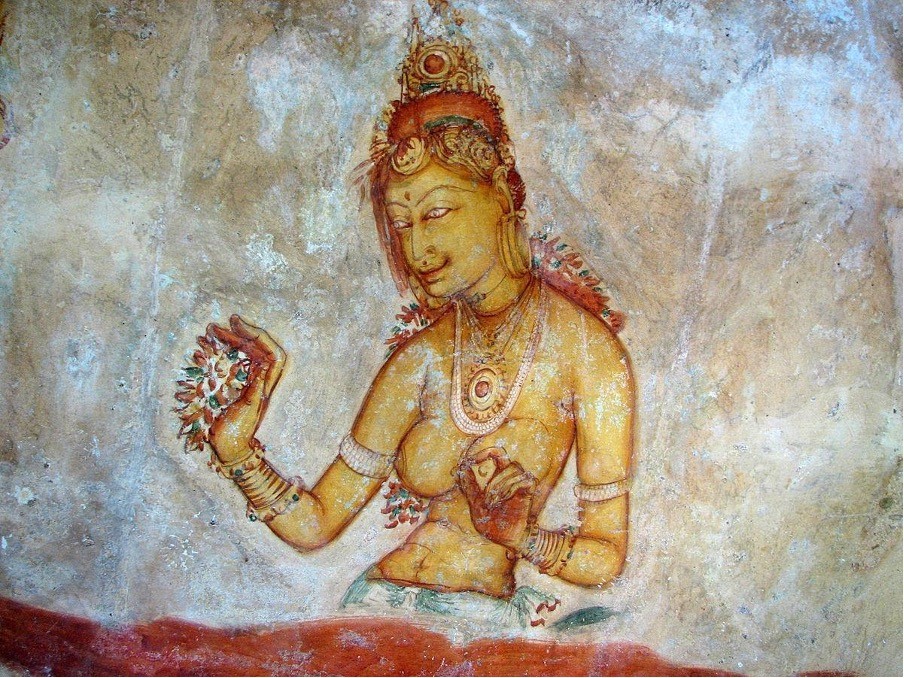 Unnamed artist/s |
Sigiri Apsara (figure B10), 477 – 495 CE  |
Fresco/Natural paint on lime plaster on Sigiriya rock, Sri Lanka
After British colonisation in 1815, art took a new turn. Whereas the creation of visual art (painters, sculptors, mural-drawers) were previously tied to a personal caste association, the colonial period saw this decoupled and 'art' taking on a form of its own and embraced by the middle class. A watershed moment of modern art in Sri Lanka was the establishment of the '43 Group, a group of affluent Sri Lankan men who were artists of various natures: painters, sculptors, photographers, and a cartoonist. They sought to explore an expression of "Sri Lanka" through their styles and their work can be read as part of the cultural anti-colonial movement of the time. Their social affluence and metropolitan nature created a distance from rural realities that enabled them to idealise the rural, particularly images of the village and women. The 1960s onwards in the 20th century saw the continuation of their styles as well as revival of traditional styles that tried to oust the 'Western' influence from indigenous art.
The next crucial turn in Sri Lankan art came in response to the social and political strife of the 1980s onwards as ethnic conflict and class warfare took root. The 90s Art Trend saw the emergence of politically motivated art that commemorated and protested Sri Lanka's violent realities as well as reacted to the rapid globalisation and economic liberalisation. Sri Lanka, currently still dogged by social and political unrest, continues to have a visual arts scene that has much politically engaged content, although abstract work and other experimental styles try to push forward. Many younger artists have also turned towards digital technologies as well, experimenting with digital photography, graphic design, and video art.
In an attempt to address the glaring lack of art museums in the country, Museum of Modern and Contemporary of Art was initiated in 2019, introduced by its founders as a 'Museum in the Making'. Museum of Memory and Co-existence also feature the works of young artists exploring related themes in Sri Lanka. The World Art and Memory Museum is a parallel initiative that connects Sri Lanka to the global art and memory scene. 
Explore Sri Lanka's art scene:
Memory Work in Sri Lanka
Sri Lankans often look to their ancient history of glorious kingdoms as a matter of national pride and identity. Modern history, which appear much less glorious in comparison, is sidelined in history text books and national museums. If at all, the narrative is usually captured by the 'victors' and room for memorialising from the victims' side is sparse and politicised, as seen in the case of postwar reconciliation. Thus, memory work in Sri Lanka is a highly contested terrain.
One memorial, 'Shrine of the Innocence' by Jagath Weerasinghe was commissioned by the government elected in 1994 for victims of the counterinsurgency against the youth insurrection of 1988-1990. This stood as a reminder to politicians who passed that way to the parliament, of the devastating consequences of their actions. However, in the rushed development agenda of the 2010s, this site was demolished and replaced with an open air market. Very few of the younger generation even know it existed. This is one of the few examples of government-commissioned memorials for citizens' struggles. Most other memorials are citizen-created, such as the mirror-artwork marking the spot where politician Neelan Thiruchelvam was assassinated by an LTTE cadre, or the statue of a woman, man, and child refugee family escaping the devastation of war in the North. These are created by the communities whereas large glossy, expensive memorials stand in prominent spots around the country to mark military losses during the ethnic conflict. These end-of-war memorials are jarring for people from the areas of the North and East for whom war was an everyday reality and who are now continuing to deal with after effects of a three decades of war. 
The digital space for memory work has been increasing in recent times to counter the inability to have victim-based memorialisation narratives in the offline world. Maps recounting violence and attacks have been created, digital storytelling of shared pain from women across the country, and documentation of violence against minorities number some of the efforts to retain citizen memory alive, both to keep alive the memories of the past but also for posterity's sake on the very current on-going ethnic and religious spates of violence. Less has been done to document violence against women, aside from documenting women affected by the war, but individual artists and women's groups continue to commemorate stories of survival and resilience. The space in the World Art & Memory Museum is thus a timely and important space for Sri Lankan memory, as expressed through its varieties of visual artwork. 
Explore the memory scene in Sri Lanka:
Thematic Focus
Capturing the pluralistic nature of traditions, identities and memories was an important aspect of curating the artists and their artworks presented here.   These artists are from different ethnic, religious, geographical and social segments of Sri Lanka illustrating a diversity of issues faced by their communities. Depending on which part of the country they lived in, which language they spoke, which ethnicity or class background they belonged to, all have an impact on the experience of living in the island.
You will observe that some of the artists such as Thamotharampillai Sanathanan and Jasmine Nilani Joseph come from the Northern part of the island which directly experienced the decades long civil war. Their work respond to their own personal memories and the memories of their community going through displacement and ravages of war directly.
On the other hand, Chandraguptha Thenuwara and Jagath Weerasinghe come from the Southern parts of the island where they faced different dimensions of this conflict. Thenuwara mostly speaks about the increasing militarization of spaces, restrictions on individual freedoms while Jagath Weerasinghe talks about youth unrest faced by the Southern populations. Hanusha Somasundaram comes from the hill country region where her community has been long associated with the production of the world renowned Ceylon tea, though the stories of her community are hardly in the history books. Abdul Halik Azeez comes from the urban capital of Colombo, and centers his work around the changing landscapes and lifestyles and the underlying politics. These six artists also represent different generations and you will observe how this affects their choice of theme and medium. 
The recurrent theme that emerges from their work is that of identity, to which history and memory are integral. The experience of civil war, displacement, living in historically disadvantaged communities and gendered experiences are some of the central themes artists have responded to. This highlights the resilience of the artists, as they bravely address issues that are deemed 'better forgotten' or 'commercially unattractive.' 
Sri Lanka has many more such brave artists. To explore more check out some of these links.
Artists Remember; Artists Narrate: Memory and Representation in Contemporary Sri Lankan Visual Arts by Sasanka Perera
Article: Romance of Personal and Political in Contemporary Art in Sri Lanka by Dev N Pathak