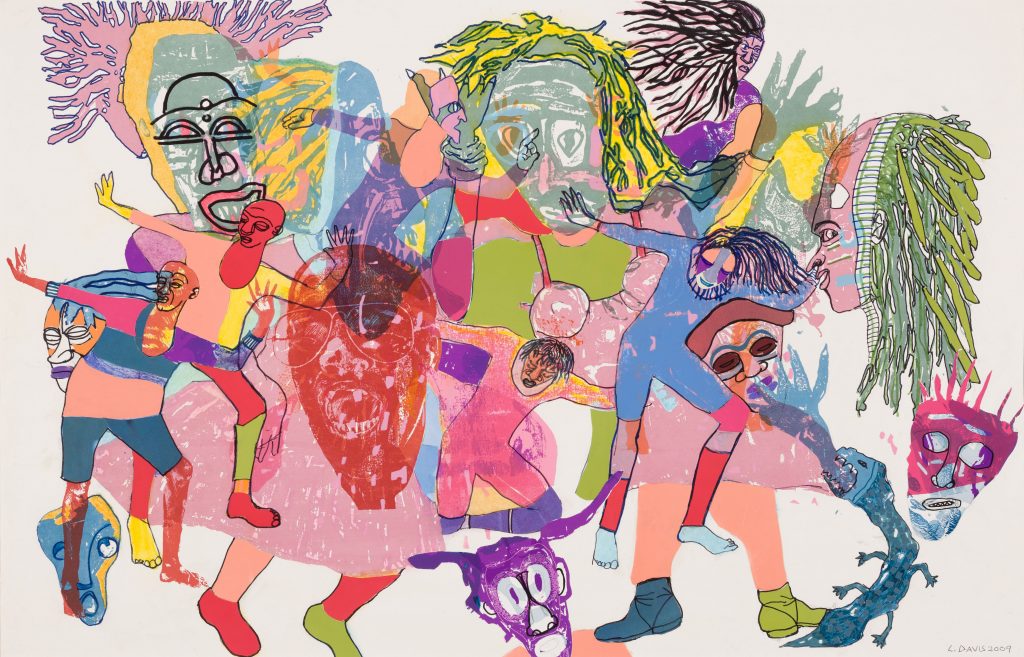 Dimensions: 69.5×88.5 cm
In the words of the artist:  
Making new compositions out of an older work that I had saved, or thought at the time was not a good enough print, Maskerade is a series of silkscreen prints that I had re-worked after my time as a student at Michaelis. I have no problem borrowing from other people, looking at magazines, at what others have done, and transforming this imagery to suit my own purposes. I was not precious about printmaking editions: I broke the rules. In fact, I sought much satisfaction out of reworking these prints using collage, drawing and paint. I was fascinated by African masks and sculpture, which I became aware of when I was studying at university, and I got to know about African cultures which I never got to learn about at school. It opened my mind, my concern and my interest around what had been denied to us as I knew nothing about the cultural and spiritual life of other parts of the African continent, not even Southern African culture of the Khoisan, Zulu and Xhosa. This gave me the opportunity to look closer at our cultural heritage, especially the New Year street parades around the Cape Minstrels' Festival in Cape Town. I realised that it is not only that these cultural happenings are celebrated in other parts of Africa, but we also celebrate our heritage through the Cape Minstrels – the changing of identity through masks, face paint and colourful costumes.
Description:
Davis' Maskerade series (1994-2009) is an excellent example of the artist's recurring use of 'return' as an artistic methodology. As Davis describes, with the practice of printmaking it is unconventional to rework and re-purpose, in effect, prints which are editioned or 'complete'. It is especially effective with regards to his work on the Cape Minstrels. In South Africa, the Cape Minstrels are arguably best known for the annual New Year's Day parade or Tweede Nuwe Jaar celebrations in Cape Town. These celebrations are historic, and commemorate the annual celebrations of enslaved people in Cape Town who would be permitted to celebrate New Year on the 2nd of January each year. In Maskerade, Davis refers directly to the vast diversity of South Africans and the African continent, but also alludes to the diverse origins of descendants of the enslaved. Enslaved people in the Cape came from present-day Angola, Madagascar, Mozambique, Indonesia, Malaysia, India and Sri Lanka. Davis, through his re-assessing of these art works, thus adds depth of meaning and understanding as the works develop over time.