Witness – One day my kittens will return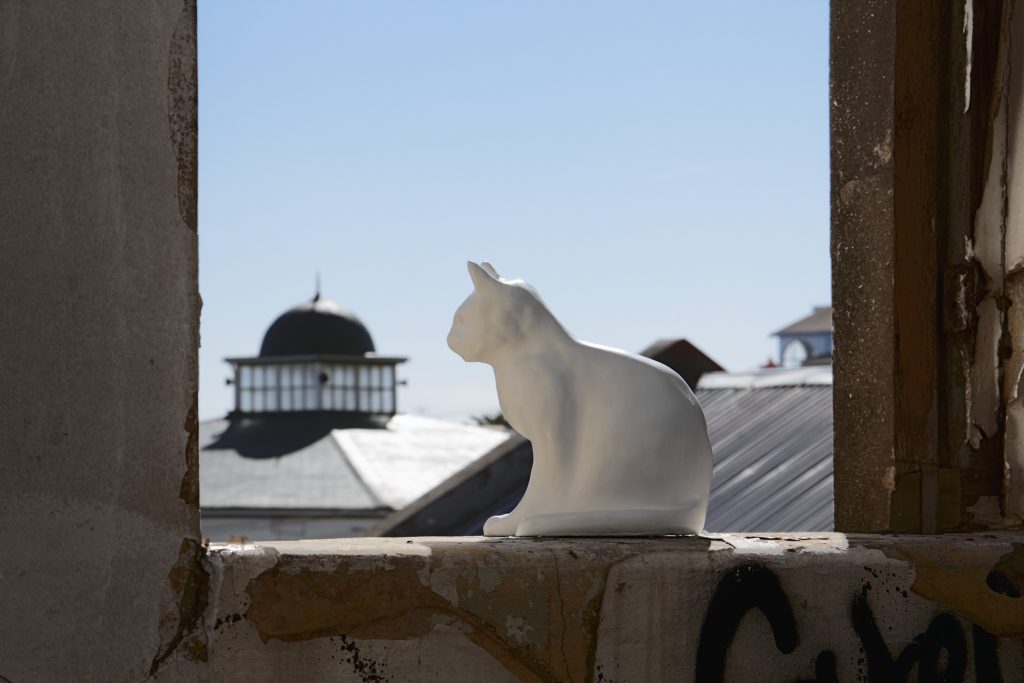 Witness – One day my kittens will return | 350 x 100 x 200 mm
In the words of the artist:
A writer and poet, Mrs Fasia Adams, scripted an illustrated graphic novel which embodies her experience of District Six. Writing the piece in the late 80s provided her with some healing. The novel has never been published.
The story is told through the eyes of German, her cat, in an attempt to temper the deeply political content to reach younger readers. The narrative tracks the thoughts of her cat sitting on a windowsill dreaming of what the move from District Six to the Cape Flats would be like. The move was being enforced a result of Apartheid forced removal policy. The script ends with German, now an old cat, exclaiming, "One day my kittens will return to District Six".
Expanding a method of collaboration, through a series of interviews and dialogues with Mrs Adams, we came to the idea of creating a 'litter' of kittens. The sculptures placed as a site-specific installation on different window sills, depicted the cats always looking out, pensive and contemplative as a conceptual homecoming.
Description:
In working with and recounting former District Six resident Mrs Fasia Adams' story in One day my kittens will return (2012), Gunn-Salie explores the therapeutic capacities of creative and artistic processes in addressing the trauma of forced removal during apartheid. As an integral aspect of this series, Gunn-Salie has also developed a collaborative relationship with Mrs Adams as way of bringing her story to life, and to share her experience with others. This inter-generational and cross-disciplinary work is vital in keeping the memories of District Six alive, and in paying respect to the many artists, writers and performers who once lived in the District and contributed to the creative and intellectual life of Cape Town.