Witness – Sunday Best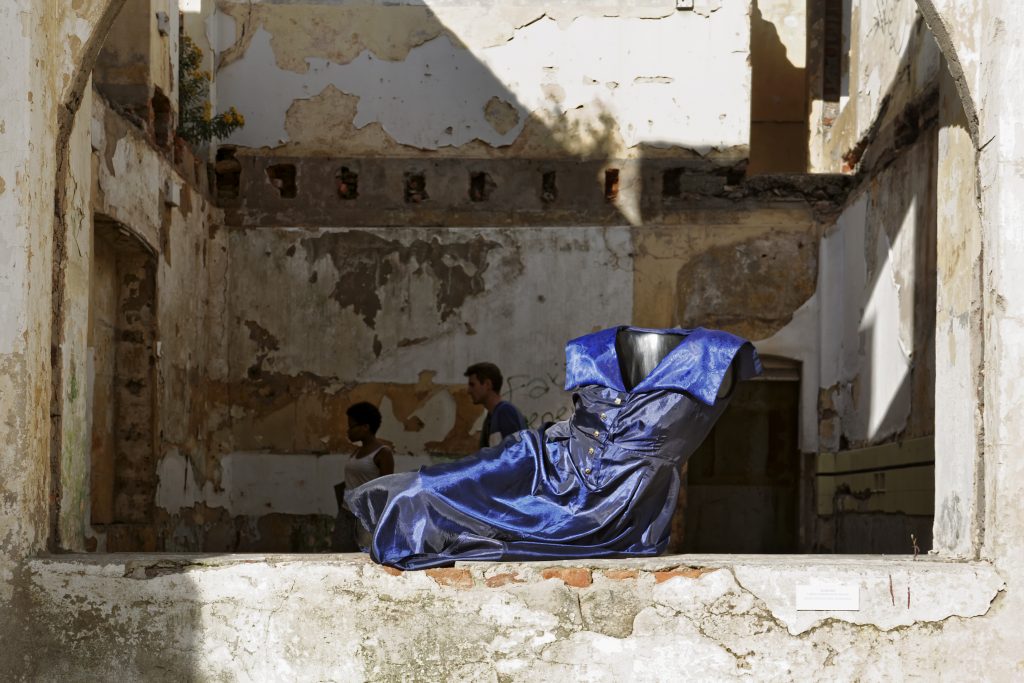 Dimensions: 396x594mm
In the words of the artist:
In 2005, returned resident to District Six, Ms Susan Lewis, received her home in District Six thirty years after being evicted to the Cape Flats. This was part of the first phase of restitution to District Sixers. Ms Lewis refers to her new place as "Buckingham Palace compared to how we lived in District Six".
Through dialogue and interviews, Lewis and Gunn-Salie decided to create a sculpture capturing her Sunday 'promenading' trips to the Company's Garden in central Cape Town. The use of public spaces in the city-centre ended when Ms Lewis' family was forcibly removed from District Six.
The artwork consists of a ghost-figure dressed in a beautifully tailored navy blue dress. The sculpture is elegantly positioned almost as if in motion while, however, being stripped of its wearer.
Description:
Sunday Best (2012), by Gunn-Salie in collaboration with former District Six resident Ms Susan Lewis, recalls the loss of a dynamic city life destroyed by forced removals and the destruction of District Six. Ms Lewis' walks in the Company's Garden on Sundays, where she would 'parade' her best garments, is the focus of the artwork. Here, Ms Lewis is referring to the proximity of public sites, such as the Company's Garden, which were easily accessible to residents of the District. Amenities such as schools, hospitals, places of worship, and shopping, were all available to District Sixers. Nestled at the foot of Table Mountain and overlooking the harbour, District Six offered its residents not only a cosmopolitan life, but one enhanced by the natural beauty of Cape Town. In addition to the loss of community, former residents were left to contend with a complete change of lifestyle, and often, long commutes to work and school.