Soft Vengeance
Soft Vengeance – Carl von Brandis | 1150 x 820 x 890 mm
In the words of the artist:
Soft Vengeance is a series of sculptural works dealing with the controversial Heritage debate in South Africa. It addresses the psychology of memorialisation and presents the seemingly shackled cast-iron grip the colonial West still has on Africa.
The evocative works are based on casts of the 'bloodied' hands of statues of Jan van Riebeeck (cast directly from a statue of the Dutch colonialist in Adderley Street in central Cape Town), Bartholomew Dias and Cecil John Rhodes in Cape Town, and Carl von Brandis and Paul Kruger in Johannesburg.
The bodies of these figures are implied by the 'ghosted' presence unseen beyond the gallery wall. These dismembered hands offer both an appropriation and a re-articulating of disquieting symbols of preceding power, and a reflection on what their legacy has engendered today.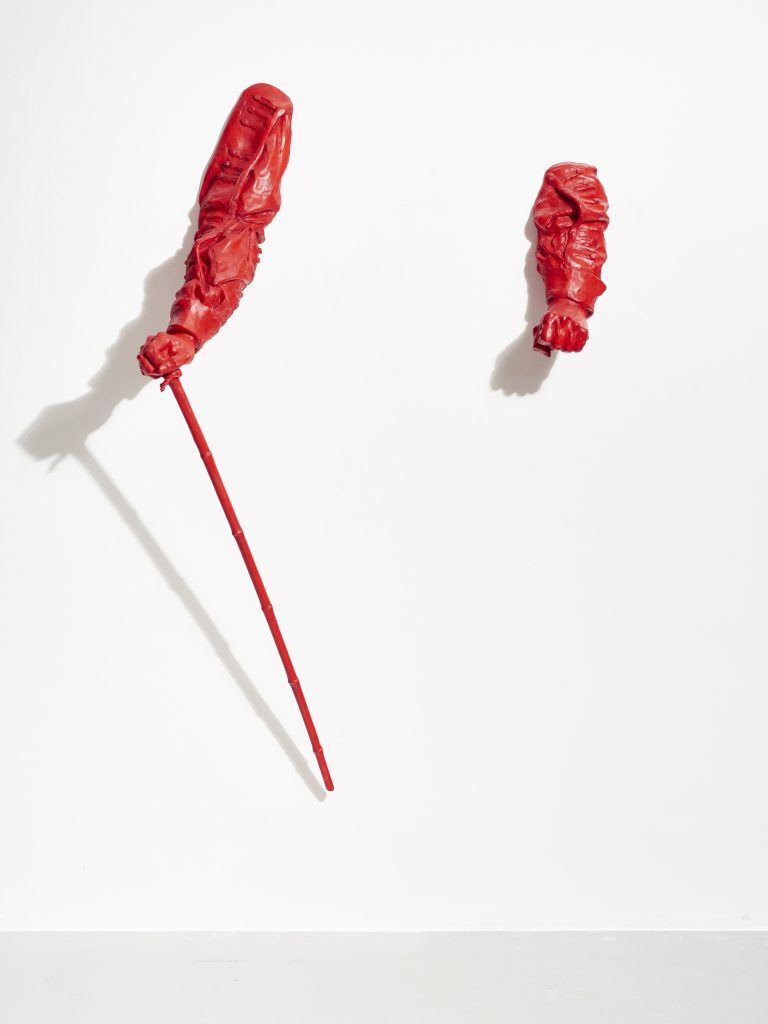 Soft Vengeance – Jan Van Riebeeck | 1980 x 1170 x 430 mm
Description:
In Gunn-Salie's series Soft Vengeance (2015), the artist addresses the legacies of five historical figures who have shaped the creation, establishment and maintenance of South Africa as a European settler colony. Each figure was instrumental in introducing colonial infrastructure and policy that would reinforce the racial stratification and oppression of South African society in the centuries and decades that followed. Gunn-Salie's selection of historical figures spans the initial encounter with Europe and the southernmost tip of Africa in 1488 (Bartolomeu Dias); the beginning of the Dutch settler community in 1652 (Jan van Riebeeck); the establishment of the Afrikaner-nationalist state (Paul Kruger); the formalisation of gold and diamond mining in Johannesburg (Carl von Brandis); and the development of exploitative labour practices in the mining sector and the implementation of an imperialist vision in South Africa (Cecil John Rhodes). The legacies of these figures are enduring and affect, among other sectors, inequality and labour practices, education from a primary to tertiary level, and city planning.