Save the Princess
In the words of the artist:
Princess Vlei is a wetland in an urban area of Cape Town and a site of trauma: haunted by myths, riled with urban legends, Princess Vlei is inextricably linked to the displacement of people and is currently under real threat of destruction by commercial development.
This body of achromatic digital works draw upon this site and its legend – a lake of tears – as a symbol of the degradation, disempowerment and injustice visited upon the worlds of the vulnerable by the powerful.
I employ sequences and layers of animation, footage and stills which allude to the cyclical and traumatic nature of remembering and forgetting, submerging and rising, entrapment and escape. Multiple projections situate the viewer in close proximity to the anxiety of impending violation and freedom/release from cycles of trauma, in a position to actively break the cycle, or remain trapped.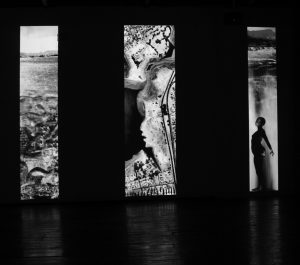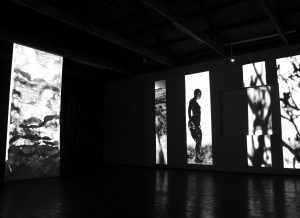 Description:
Since Price created Save the Princess in 2013, social and ecological activists successfully prevented the development of the wetland into a shopping mall. Lead by the organisation Princess Vlei Forum, interested groups lobbied to have the natural recreational site protected on historical, cultural and ecological grounds. As mentioned by Price, the wetland was named after a local legend in which a Khoe princess was captured by Portuguese sailors whilst bathing in the waters. During apartheid, when many beaches were declared 'Whites Only', Princess Vlei was one of the few available destinations for Capetonians classified as 'non-White' to enjoy nature with their friends and families. For Church groups, it is also a popular site of baptism. Captured in Save the Princess (2013) is a powerful record of this period of activism and serves as a reminder of the agonies and triumphs surrounding the site.