Times from my Past and Future/Childhood Days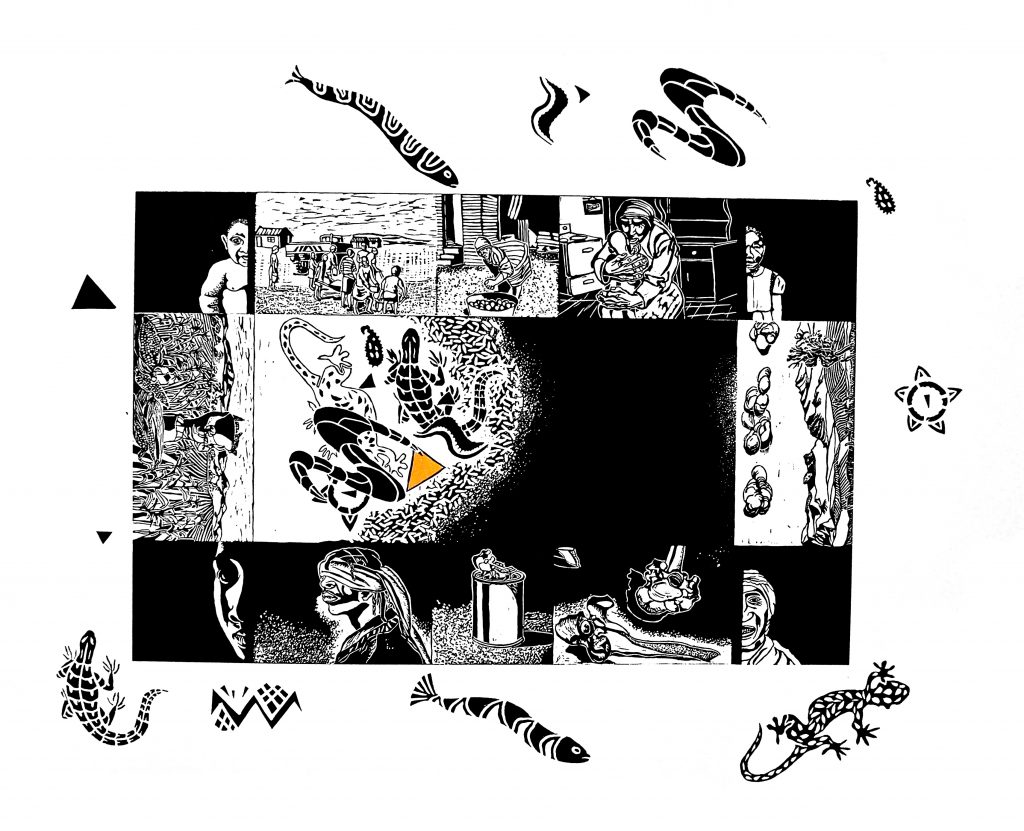 Dimensions: 71×91 cm
In the words of the artist:
Growing up, a bone-collecting truck would make the rounds regularly. We would sell meat bones to this truck and get vegetables in exchange, and we were able to make supper the evening. We as children collected these bones from the streets and in fields where people had thrown them away.
With regards to the symbolism of the insects and animals, as a child I used to play with them. I was amazed by their power and wisdom to get away when they felt threatened and this taught me how to work my way out when a problem faced me. The significance of the scenes of women and the rural areas is that I come from a rural area and I was surrounded daily with great ideas because we had to find ways to survive the hardships. Women sold bones to people in the community, then they would make ivory to generate an income. I chose this unique composition because I wanted to express my past life in sections.
Description:
Framed by the insects and animals Peters recalls playing with as a child, Times from my past and future/Childhood days (1999) is a moving portrait in which Peters reflects on moments from her life where she has relied upon ingenuity and resilience. Her narrative about the artwork discusses how she and other women used the resources at their disposal to feed their families. This day-to-day occurrence in a rural setting is not frequently depicted in contemporary South African art, and we as viewers are offered a unique opportunity to learn from and understand a small part of the rural experience. The compositional style is compelling, as it is reminiscent of a comic or film narrative. Each section of the print conveys a snippet of a detailed story and cast of characters from Peters' life. In each corner of the print is the progression of an infant to an elderly woman, presumably representing the life story of Peters herself, or a woman like her.