Lost inside my tears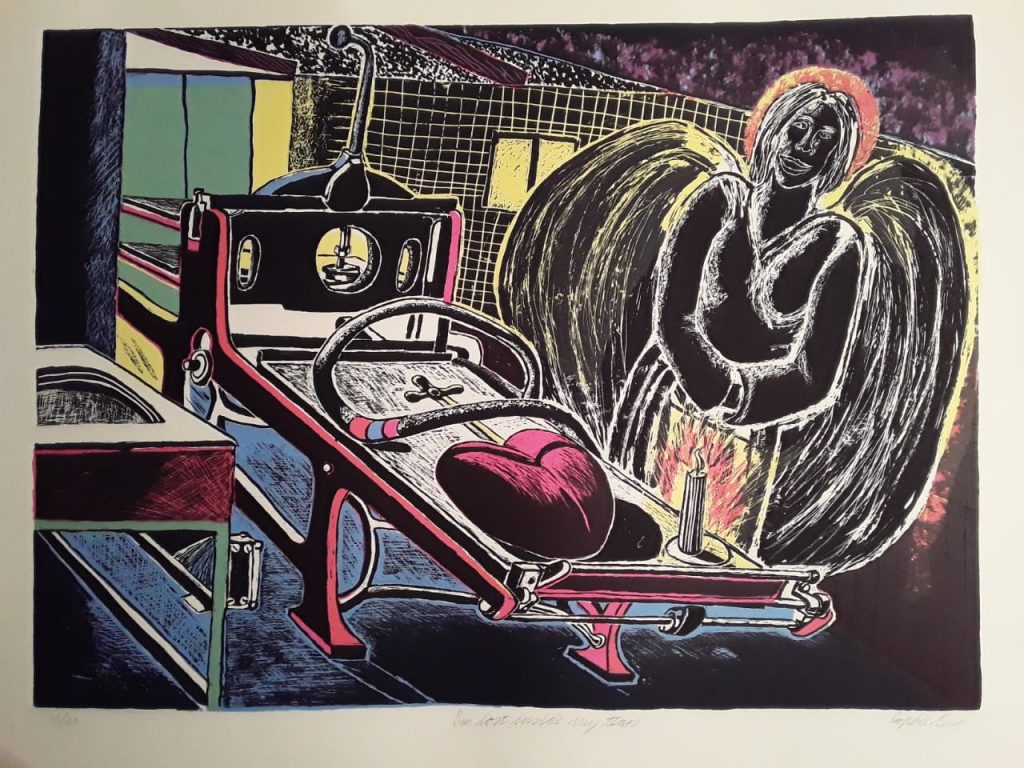 Dimensions: 190×360 cm
In the words of the artist:
Experiencing the loss of my mother I was lost inside my tears. She was poisoned to death and I did not know what to do with my life. It seemed empty without her. But this gift God has given me saved me and my family. My mother passed away when I was 13 years old.  With regards to the angel standing over me, I used to work at a graveyard in Caversham, KwaZulu Natal, and saw in a vision that an angel was protecting me. It gave me a message that everything that comes out of the heart, I can create.
This piece came into form as a vision while I was dreaming and it takes place at a printing press. In fact, at the graveyard the next morning I came across gravestones with angel sculptures and I started working around with what I had seen. The heart and the cross are strong symbols for me and they represent God and Love. I really got lost in this piece as I could not stop creating and tears of joy flowed down my face when I was creating it. The healing and therapeutic quality of art is very strong.
Description:
Peters' work Lost inside my tears (2000) is a life-affirming work that has emerged from a period of great sorrow and pain in the artist's life. The work represents the dual influence and power of religious faith and the healing qualities of art making, which Peters has described as a guiding force in her life. This work has an imaginative, film-like quality, owing to its origins in a dream state.