Celebration of Identity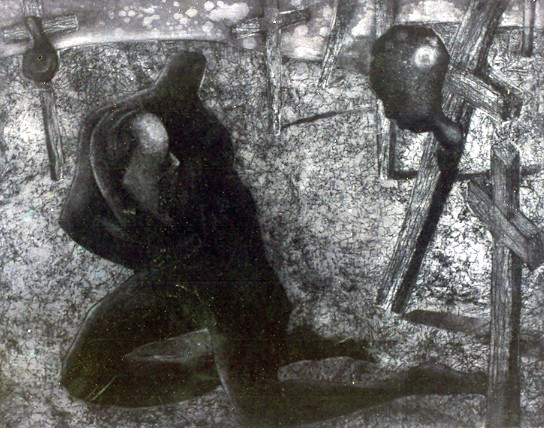 Celebrations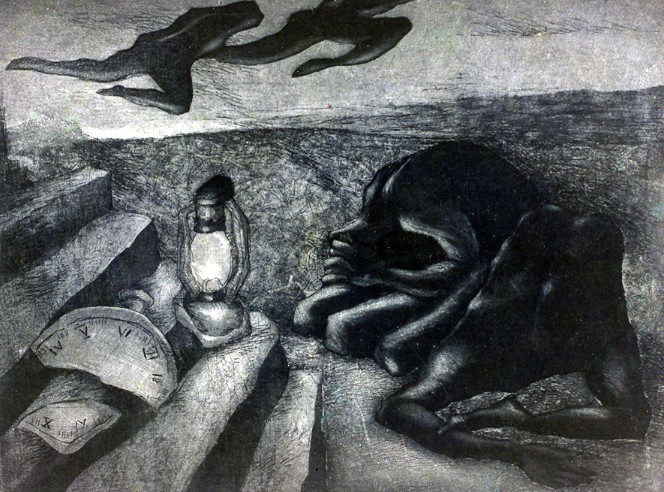 Jaffna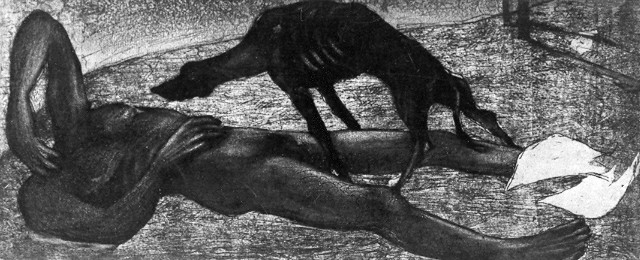 Day Under Siege
Description
This is a series of etching done by the artist to come to terms with the turmoil he experienced around him and within him during the height of Sri Lanka's civil war between 1990 to 1995. Hailing from the Northern capital of Jaffna, Sanathanan and his family experienced multiple displacements, loss of their ancestral homes, gardens and roots and long years of not knowing the shape of their futures.
The first etching, Celebrations of identity  was inspired by a letter Sanathanan received while he was a student in Delhi from a friend who still lived in the east coast of Sri Lanka.  After waiting for months without news from home, the artist was overjoyed to receive a missive from home, but the letter was empty, as words were beyond his friend who was experiencing the shock and the reality of war. The etching shows a graveyard littered with crosses, but with a human figure clinging to and safeguarding its own face/head, it's own 'identity'.
The Day under siege was inspired by a poem written by another friend of Sanathanan, mourning a loss of a close friend during the occupation of the Indian Peace Keeping Forces in the North of Sri Lanka in 1988. This period was particularly hard for the residents, and they experienced an unparalleled loss of dignity obvious in the etching.
The etching called Jaffna portrays a moment in the mass exodus that took place in 1991 and 1992 when the LTTE took over the control of the town. People are praying inside a bunker in the dim light of the kerosene lamp, the main source of light in war time Jaffna in the night. The clock is broken into pieces.
Together, these three beautiful etchings recall the darkness and depth one often finds only in a grandmaster like Goya, which several art critics in fact compared the works to.