Sorrows of Life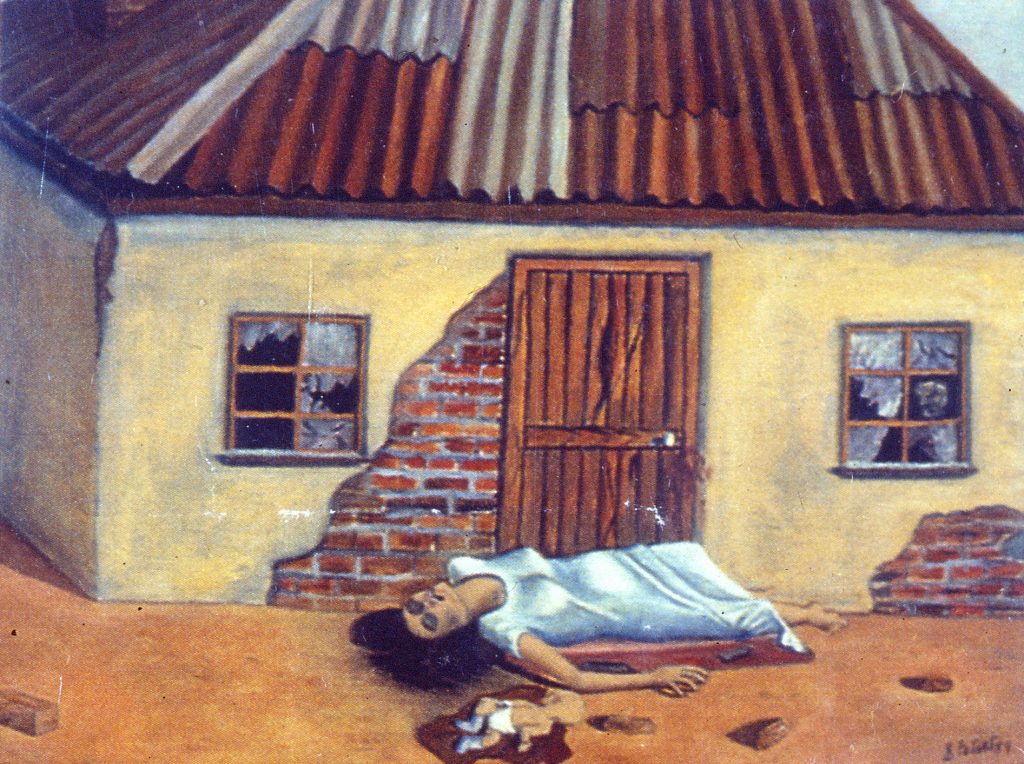 Dimensions: 86.1×69.5 cm
In the words of the artist:
A wonderful family was torn apart. He had a wife and two children but threw his life away because of his obsession with drinking alcohol. For days he would stay away, leaving his family without food.
One day he arrived at home and wanted food, but there was none. The youngest was already crying because of hunger but he did not seem to care. He scolded his wife but she protested that there was no food. He got up and smacked her to the floor. She fell into the burning fire and he grabbed her by the hair. She begged him not to hurt us! But her cries fell on deaf ears. He walked over to the young crying child to shut him up as the boy's crying was annoying him. She took the child and held him close to her body, begging him to leave them. Then he did to them what he never thought he would ever do: he dragged them both and threw them out into the cold snowstorm.
He wasn't finished yet. He walked over to his older son who slept peacefully and warm in his bed. He aggressively gripped the boy, who was confused and started crying, sensing that his dad was very angry. He walked over to the door and threw the boy out as well. The child held onto his jacket, not losing grip of his father. He called out "Daddy, Daddy" – but he wasn't worthy of the name. The door was divided into a top and bottom section, and he closed the bottom door getting the child's arm stuck in it. He took a knife and cut the boy's hand off. One could see the disappointment on his eldest son's face. As if nothing had happened, the father closed the door and went to sleep.
Waking up the next morning, the storm was over but it was still cold outside. He got up to drink some water while looking for his beloved family. He did not see them anywhere and got nervous. He remembered a bad dream he had had, but realised it was not a dream. Just to be sure, he looked outside and he saw a pile of snow outside the door. Soon he realised that he had killed his family. His wife and younger child were still lying on the ground and there was no sight of the oldest one.
He got 10 years imprisonment and converted his life to follow God. He made a vow to never drink strong alcohol ever again. He shared his message from city to city. At one particular city, he told his story once again and spoke to many fathers and young men gathered there. The men were all crying in that room and he made the call to sign a commitment to God that they would never drink alcohol because of its effects.
One man came forward to sign the commitment petition, and he immediately recognised the name and surname. He called out: "I know this name! This is the name of my oldest son!" He looked at his son's arm to make sure that this was true, and it was. Both men cried and hugged, reconciling after all the years that had passed.
Description: 
Peters' painting Sorrows of Life (1989) speaks to two common social problems in South African society: alcoholism and domestic abuse. South Africa is notorious for its high rates of domestic abuse, with statistics claiming that femicide occurs at a rate six times the global average, and that approximately half of these murders are committed by a male partner[1]. There are also studies that have directly linked the consumption of alcohol to the rate of abuse[2]. Every year, brutal murders of women and children make national headlines, leading people from all sectors of society to question the pervasive and fatal nature of violent masculinities and the patriarchal systems which protect them. Sadly, the themes depicted in Peters' work are not an anomaly in South Africa, but for many, may represent a story that is uncomfortably close to home.
[1] https://www.saferspaces.org.za/uploads/files/PolBrief71.pdf
[2] https://www.westerncape.gov.za/substance-abuse/files/atoms/files/Alcohol%20Abuse%20ENG.pdf