Unity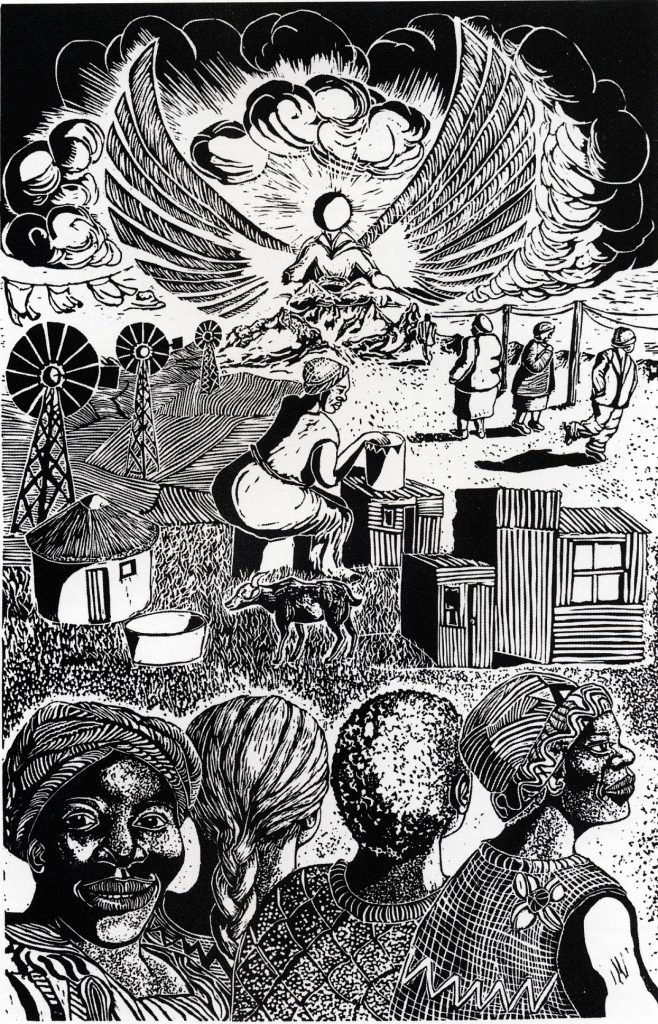 Dimensions: 81×50 cm
In the words of the artist:
God created all people as equals – from every race and culture. I have never seen God creating people to scatter them. He wants them to portray his beautiful image with great love. They were all created in one world to beautify all cities, towns and landscapes.
God is unique and he created the world to glorify his image. He is the potter who formed the clay to reveal each unique pattern that came from the potter's hands. He also gave each person a unique gift or talent to use for the glory of God, working for the good to each one who believes in him. Without God I would never have had the courage and faith to make art. Creativity always flows through God's power to me.
When I created this piece my inspiration was that all nations need to be united and stand together. I also wanted to place emphasis on women. Women are great warriors as they endure many hardships but still overcome the obstacles facing them. There is also the relationship between the rural and urban areas. For example in rural areas there are animals and plants that women can work and provide with. In urban areas it is different, women are able to be more creative and sell these products that animals provide. The women in the front represent the fact that women wake up every morning with renewed energy to go out and work and to be able to provide for their families.
Description:
A dream for the ideal productive and harmonious democracy is depicted in Peters' lino cut print Unity (2004). In this work, Peters is inclusive in her vision of both the rural and urban South African experience, and foregrounds women as active change agents in their communities. Important to note here, is the presence of faith and God in asserting the understanding that all people are created equal, and that no person, regardless of their identity or background, is better than another. In the struggle against anti-apartheid, particular religious organisations were vital in the resistance to the state, although apartheid's ideology was founded upon so-called Calvinist Christian values. The faith represented by Peters is firmly located within a desire to better the living conditions of all people and in instilling a sense of dignity and self-respect.