In the words of the artist
The two-year war, often referred to as the "Hotel War," remained vivid in my memory for a long time. Growing up, I remember listening to the radio and news bulletins discussing the Burj el Murr and Burj Rizk battles. It was part of my upbringing. I didn't know these places well as I had grown up in the suburbs of Beirut. In 2000, I was living in Beirut and had been there for about eight years. Burj el Murr was a strange place for me. I found it creepy. I felt like I wanted to make a monument for the living with it, instead of the usual monument for the dead, considering that all the work of the Lebanese state in the 90s was with the aim of making the population forget about the war. These politics of amnesia, evident in Hariri's reconstruction project, were intended to make us forget the war without ever understanding its nature. I had decided at that time to dismantle or deconstruct symptoms and symbols from the wartime period.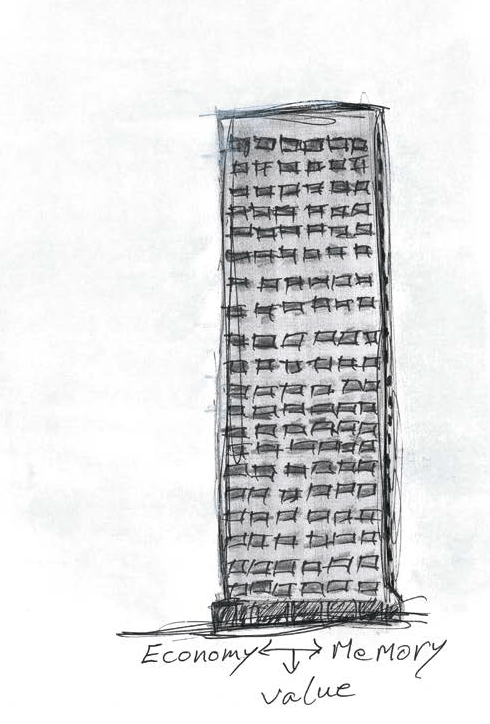 In 2001, ten years after the cease-fire, the faulty building was still unused due to structural problems. Whenever I would pass by it, I would be thrown back to 1975/1976 when the tower was on the news daily, so I decided to capture that moment by replicating it. Based on that I went through the usual procedure of designing the project, scaling the mold, and taking all the necessary measurements, before finally casting it. The tower still stands today almost as it was when I casted it, now taken over by the Lebanese Army and operating as a military base after the assassination of Prime Minister Rafic Hariri in 2005. In 2016, it became a permanent armory with the road in front of it named Army Road.
Description
Rechmaoui's Monument for The Living is a downsized cast-concrete replica of the Burj El-Murr tower, a thirty-four floor office building owned by the right-wing Christian El-Murr family, and left unfinished since the start of the civil war in 1975. Throughout the war, and perhaps most famously during the 1975-1977 Battle of the Hotels, the tower was used as a sniper post, prison, and weapons warehouse by several alternating political factions and their militias. Deemed structurally unfit for rehabilitation, its demolition prohibitively expensive, the tower stands today as a prime embodiment of the war's lasting effects on the urban fabric and public memory. The artist offers the scale model as an unadorned testament, both to the arbitrary tyranny of the war, and to the inanity of the social, sectarian, and urban constituencies engendered by the failing post-war order.