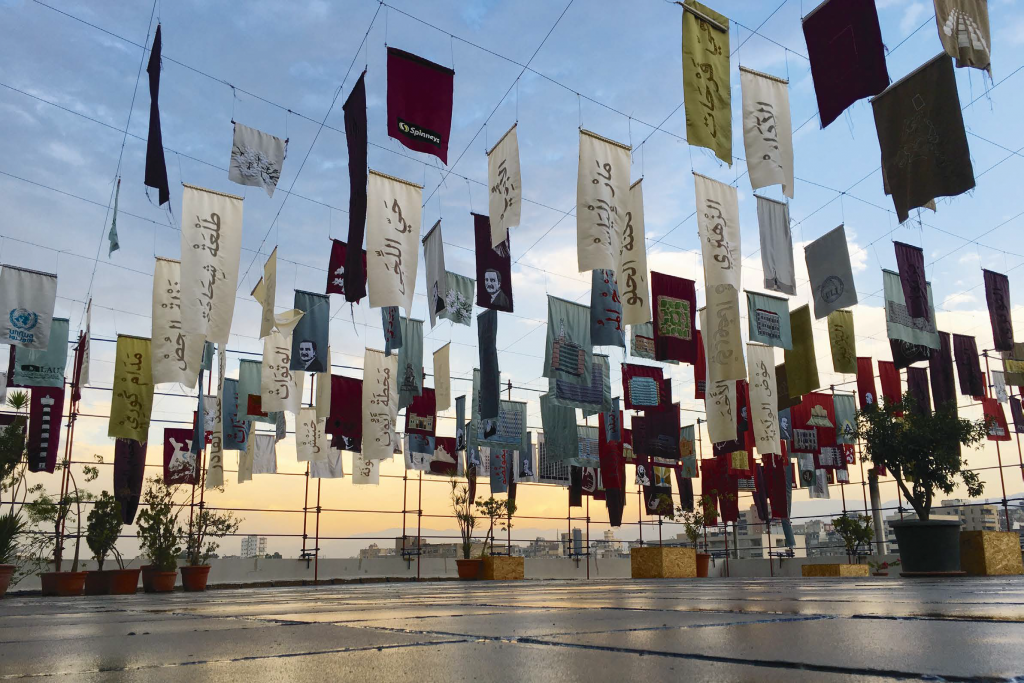 357 embroidery and applique on textile flags and 59 laser cut on stainless steel shields.
In the words of the Artist
Blazon came from intense research for Beirut Caoutchouc that I had started ten years prior by reading the official records of Beiruti neighborhoods in order to understand details about their geographical location and development. 
Since Beirut's turning point in 1830, with the arrival of the Egyptian troops of Ibrahim Pacha and his French allies, the city grew into a commercial center with the port becoming a strategic hub within the region. With the city's hectic expansion, landowners moved to areas around the city walls forming neighborhoods of the same religion, beginning the division of the city along sectarian lines.
Constantly evolving, Beirut is charming, friendly and hospitable but paradoxically filled with tensions in social, economical and political arenas. Its inhabitants are always "on guard," always ready for something to happen, as gaps between the neighborhoods grow wider with rising pressures.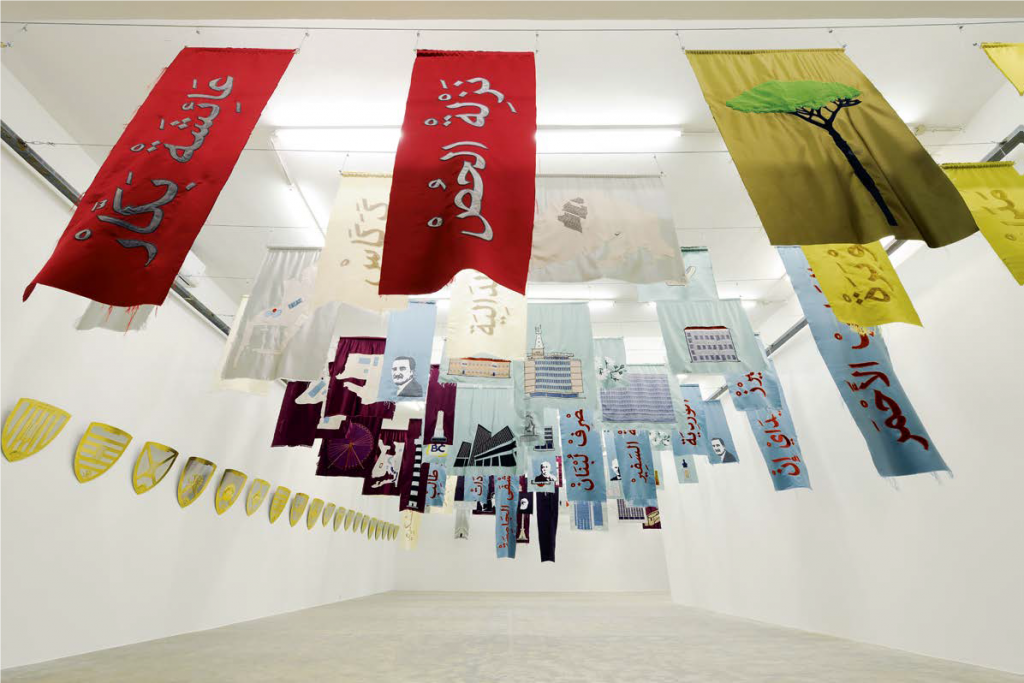 Having gathered all the research about Beirut and wanting to express this feeling of guardedness of its inhabitants, I created a game-like work in which every neighborhood becomes an army with its own set of attributes. Deconstructing the city into its main resources and histories, I used the origin and meaning of the fifty-nine names of areas in Beirut to constitute the basis for the armies' formation. Using heraldic imagery on flags in Blazon, the installation raises them high alluding to patriotism while their symbolism denotes their histories.
Description 
In Blazon, Rechmaoui espouses heraldry as medium and lexicon, refiguring Beirut as a city divided into six warring legions, each with its own neighborhoods, landmarks, and chiefs, all plotted meticulously onto 350 flags and 59 stainless steel shields. The 59 shields correspond to official municipal divisions, curiously structured by the artist according to "major" and "minor" characteristics: architectural, terrestrial, horticultural, genealogical, and sectarian. With this subjective recasting, the artist creates a game of fractalizing sovereignty, down to the individual edifice, as though each architectural column could be its own political faction. To anyone familiar with the fragile ethno-sectarian make-up of Lebanon, this playfulness is almost morbid humor. Rechmaoui delivers the existing reality to its absurdist endpoint, cruising past the city, rendered as a cacophonous horizon of multicolored flags and insignia.