Jokers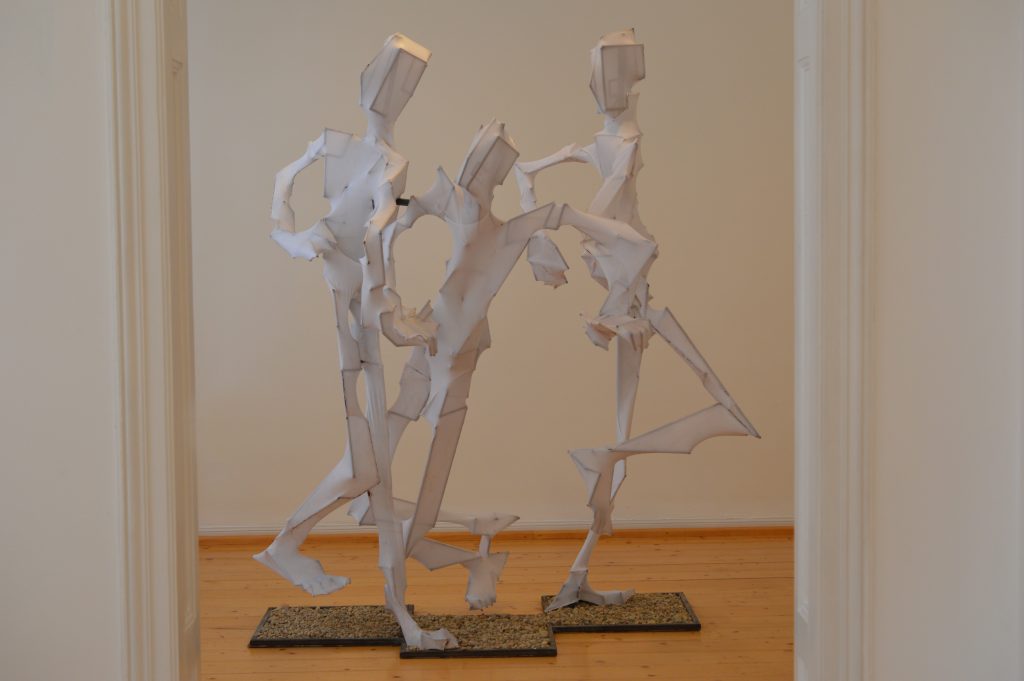 Dimensions: 210 x 200 x 140 cm
In the words of the artist:
When a train would approach the camp, the detainees were taken out of their facilities to dance traditional folk dances so that random passengers would watch. This stage has left an imprint on me and was one of the reasons that I started making my sculptures. 
Description:
The banality of the dance – called "choro" which can be seen in one of the composition of figures based on the real stories of inmates – when at specific hour а train has been passed nearby the quarry and the inmates were obliged to dance it in order the passengers to not see any irregularities in the area. According to Hirsch(1) the stories told by generation witnessing those events, may be influential and strong emotional binding, that are internalized by younger generation as if those would be inheritance. Post-memory, instead of futile or method, is being described as intergenerational and trans generational traumatic experience, traumatic knowledge, transmission structure (Hirsch, 2002)(2). Post-memory is a consequence of discourse and materials used for re-building narrative relationship. Post-memory relationship to past, works as a truly recall mechanism. Imagery investment, projection and creation. Such emotionally excessive discourse, obtained as hereditary memories of constituent discourse of the individual, and cause individual to create his own story, interchanging with subjective experiences and even are provoke being evacuated .
(1) Hirsch, M. (2001) Surviving Images: Holocaust Photographs and the Work of Postmemory. The
Yale Journal of Criticism, 14(1), 5-37.
(2) Hirsch, M. (2002). Marked by Memory: Feminist Reflections onTrauma and Transmission. In
N. K. Miller & J. (Eds.), Tougaw Extremities: Trauma, Testimony,
and Community, 71–91. Urbana: University of Illinois Press.