Barrelism and Neo-Barrelism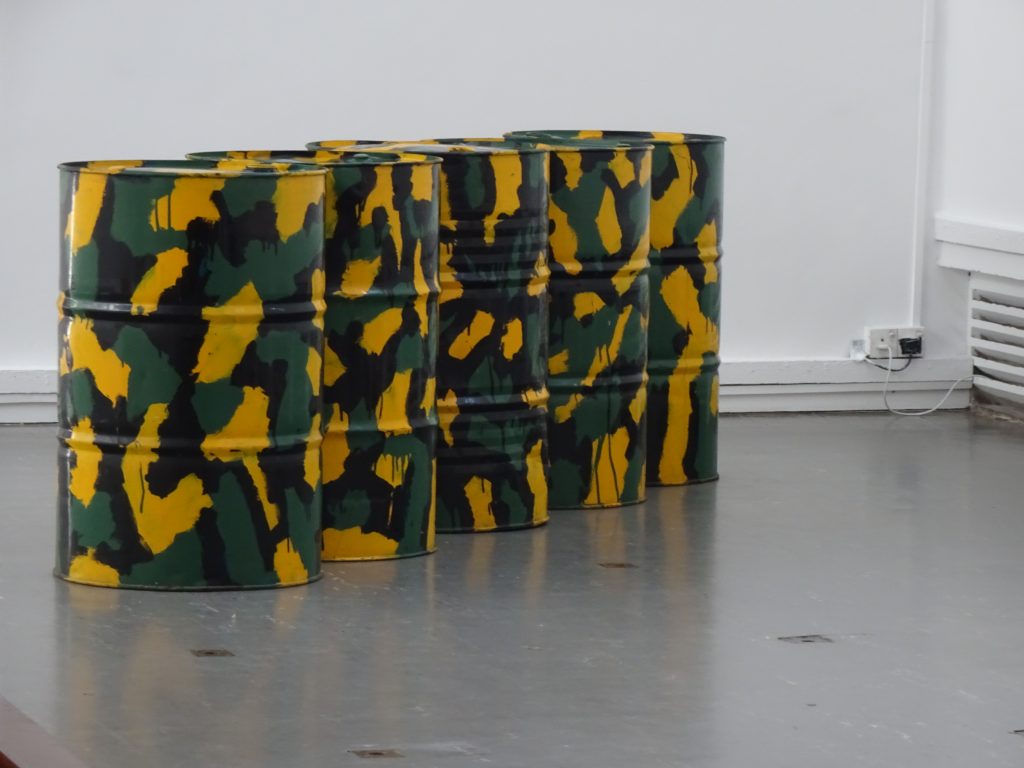 Barralscape on display at the Recurrence 2020 Exhibition, Lionel Wendt Centre, Colombo Sri Lanka.
Barrels
Thenuwara is one of the most overtly political artists in Sri Lanka, whose iconic work has come to define artist-activist ethos. Thenuwara was responding to the increased militarization of public spaces around the country in a tumultuous time of insurgency and multiple conflicts in the 1980s and 90s. The government's attempts to counter these conflicts led to increased militarization of public spaces, bringing in numerous checkpoints, barricades and other security infrastructure into civilian life. Thenuwara responded to this situation by his installation 'Barrelscape', where he took the camouflaged barrels used at security checkpoints. He is flagging how the barrels became part of the city and its routines and rituals, and eventually the citizens felt it was 'normal' and the camouflage aesthetic became familiar and accepted. 
Barrels have occupied the space around us, that no one can deny. An artist especially can't afford to ignore this truth, and this situation inspired me to draw "barrelscapes" instead of landscapes.

Thenuwara in discussion with Medis, 1999, n.p
First exhibited in 1997, the installation became re-exhibited several times, leading to Thenuwara's art practice to be called 'Barrelism'. In short, it is an art piece that defined the ethos of an era of Sri Lanka's modern history. 
he (Thenuwara) has identified his entire discourse as 'barrelism', which has transformed the image of an ordinary empty barrel into a series of artworks through paintings and installations imbued with political meanings directly linked to the political violence of the immediate past as well as the uncertainties of the present", which probed contemporary Sri Lankan politics

Sasanka Perera, Intersections of Contemporary Art, Anthropology and Art History in South Asia: Decoding Visual Worlds
Neo-barralism
What's unique about Thenuwara's work is that he returns to the same theme of barrels decades later, in his miniature series of 'Neo-barrelism' (2019). The socio-political context of the island had changed drastically. The insurgency had been crushed by 1990, and the protracted civil war came to an end in 2009, making them events of the recent past. Through his miniatures, Thenuwara shows that the physical residues of checkpoints and barricades have faded in becoming 'reminder', almost 'museum pieces'. However, their imprints are still there, in the imagination. The brass miniatures beautifully capture the act of looking back at the filtrates of the past that lingers on. 
Publications referring to Barellism
Intersections of Contemporary Art, Anthropology and Art History in South Asia: Decoding Visual Worlds edited by Sasanka Perera, Dev Nath Pathak
Read more on Thenuwara's Barrelism