Migration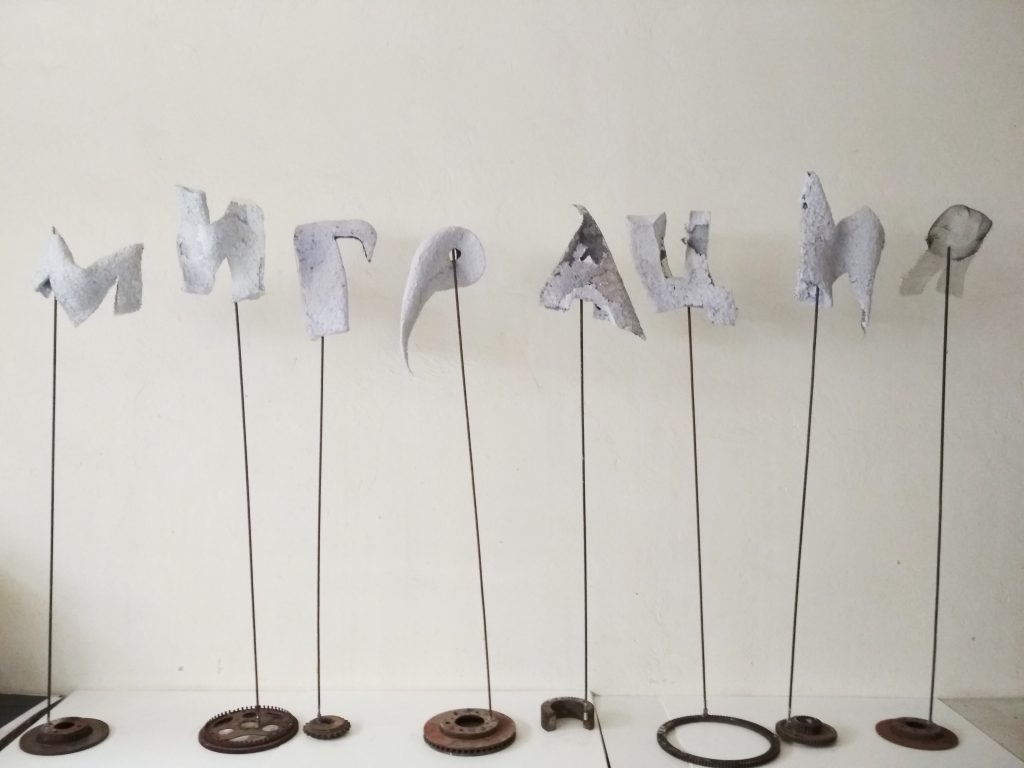 Dimensions: 170x320x60 cm
In the words of the artist : 
Policies set out important issues when defining the successful migration policy. These questions also raise individually since every man faces real and inherited fears of an external threat and the conviction that what is different is bad. On the other hand, there is the belief that every person has unique qualities and virtues and they must be respected.
The piece of art is a three-dimensional inscription which is an expression of the fact that the migration is an inconstant, ever-changing process that is natural in its essence.
The inscription, which is generally written on paper, is made by it. The aim of the letters depicted on a sheet or on another carrier is to deliver a message. To remove the meaning of the word from the general picture of migration in the world, towards Bulgaria, and the fears of the Bulgarians of the unknown, of the actual individual who has set foot on "our land", who lives, works, creates …
Description:
The  sculptures  of Galina Staneva are opening the debate of Immigration in Bulgaria and worldwide.  They do  not bring us to conclusions but on contrary involve us in the mental discourses and urge us to stand point of view. Moreover we capture in their context details, layers and see stories which bring us to overcome policies and to see humans striving to find better future in the lines. The art works of Galina Staneva –  аrе conforming the objects and throughout  their abstract presentation  aligned the  identity persists; henceforth  her way of  deconstructing objects and presenting it aligned in contemporary context as well speaks about  the complex issues of the  immigration  phenomenon.
During the Socialistic Rule of Governance of the country until 1989 Bulgaria does not have Immigration Policy. In that time Bulgaria signed several friendship treaties with other Comecon nations to ease the exchange of workers and tourism in the area of the former Warsaw countries. In the 1980s, for example, a large number of Bulgarians worked in the construction and timber industries of the Komi Autonomous Soviet Socialist Republic (Komi ASSR) under an exchange agreement with the Soviet Union. On the other hand Bulgaria was having the same agreements for exchange of workers with other Socialistic countries. For example, some Vietnamese construction workers sent to Bulgaria under Comecon agreement in the 1980s remained, and in 1991 the Vietnamese population of Bulgaria was 11,000. In that period Bulgaria maintained visa free agreements with the Socialist states and the free movement was closely controlled. Moreover travelling between Warsaw Pact countries was stipulated with the special agreements between Bulgaria and third countries. Although travelling in that area was less problematic than travelling to Western countries.