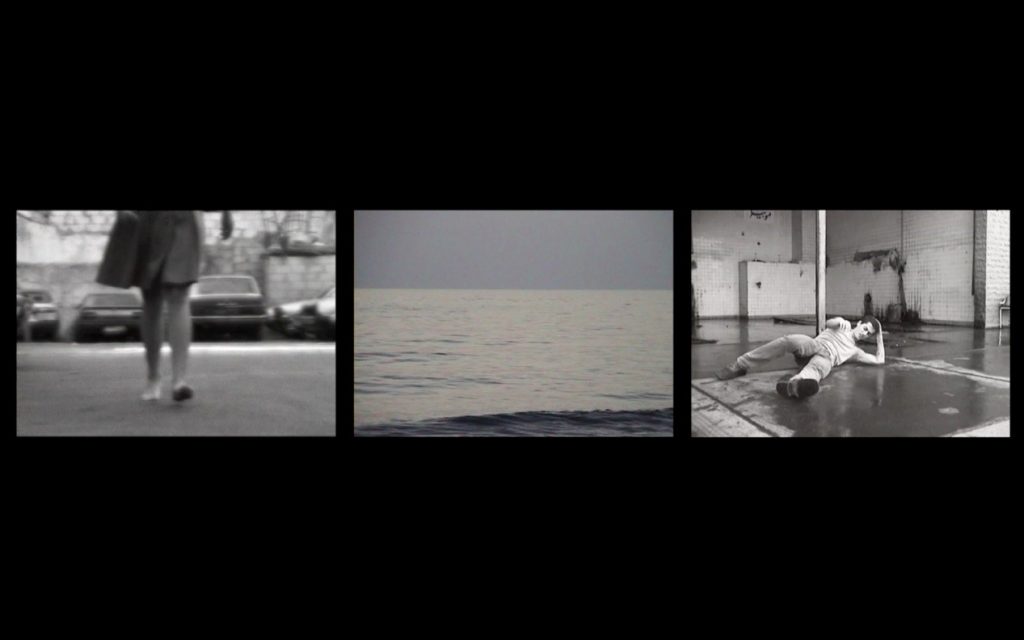 View of 'Replay' in 'Laughter' / LIFT, Bargehouse, London, 2005
Multimedia Installation
Three videos, book and text
Concept, camera, text, and production: Lamia Joreige
Co-produced by Ashkal Alwan (The Lebanese Association for Plastic Arts).
With the participation of: Zeina Arida and Ziad Abi Azar
Book reference: La guerre du Liban (Images et chronologies), Dar Al – Massira, 1978
In the words of the artist 
'Replay' explores the idea of rupture of time / within time, of rupture as violence and possible death. Two photographs – fragments – of the Lebanese war, are chosen to be re-enacted by two performers, a man and a woman. The book from which these photographs are taken is displayed in a small window, as an archival reference. We can see on each of the three aligned equally-sized screens, a video projected in loop: A man never stops falling, never stops dying (right screen). A woman never stops running, never stop escaping (left screen). Two bodies separated by the immutable sea (middle screen), are perpetuating a vain act.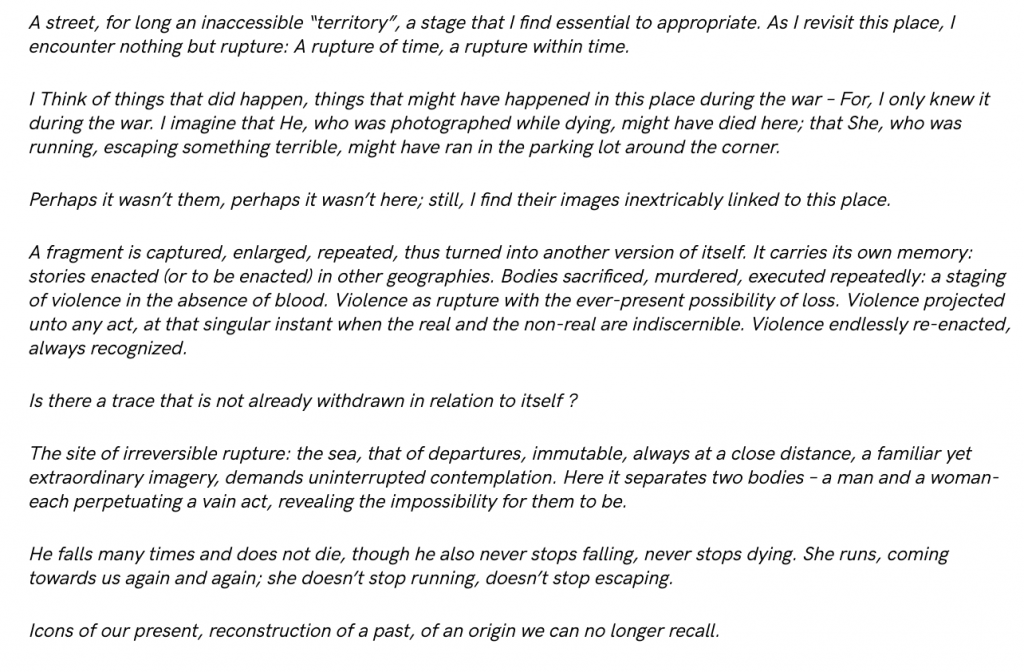 Description 
The multimedia installation Replay is one of Joreige's earliest works that deal with the legacy of the Lebanese civil war. For the three-channel video projection, Joreige recreates images from a 1978 war photography book titled La guerre du Liban (Images et chronologies) / The War of Lebanon (Images and Chronologies), also displayed as part of the installation. On loop is a close-up shot of the sea, a woman running barefoot down a street, and a young man falling before and after standing up. Replay was first screened at the abandoned Colisée cinema, as part of Hamra Street Project — one of Ashkal Alwan's earliest group exhibitions — which invited local artists to reflect on Hamra Street as a cultural epicenter of the city of Beirut. With its poignantly simple reenactment strategy, and with its excavation of a document dating from the initial three years of the 15-year-long war, Replay contains the germinating seeds of the years-long artistic explorations of the representability of war pursued by Joreige.