Here and Perhaps Elsewhere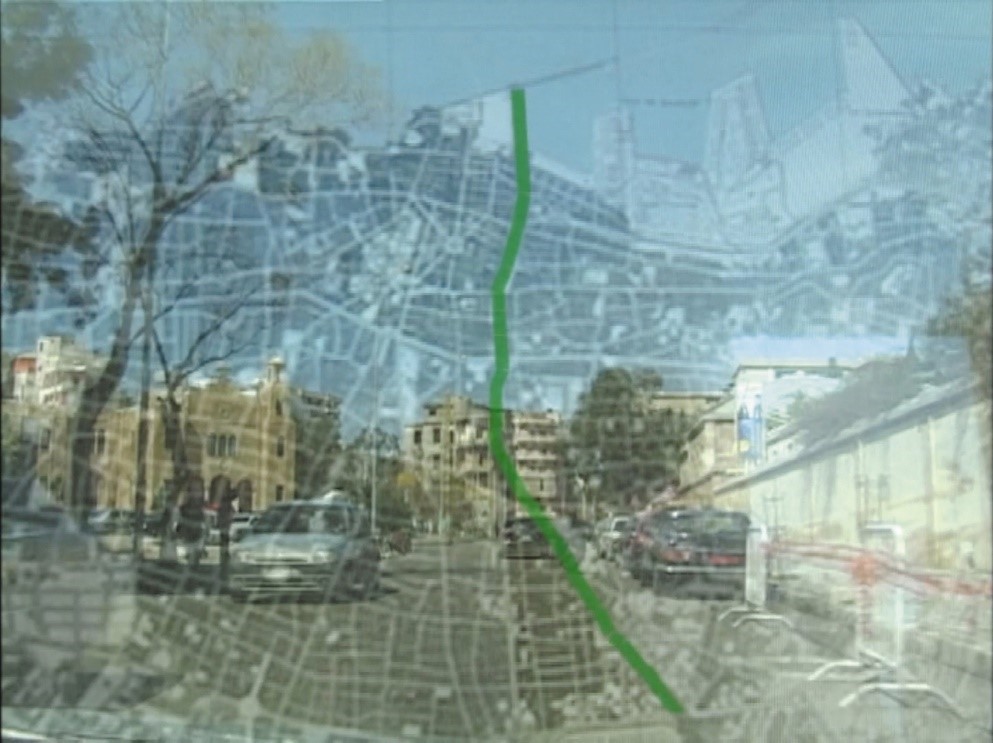 Here and Perhaps Elsewhere-Original Arabic Title: Houna wa Roubbama Hounak
In the words of the artist 
During the Lebanese civil war, thousands of people disappeared. In most cases, the bodies were not found and the circumstances of their disappearance were never known. Today, I travel through Beirut, asking the inhabitants I encounter the same question: Do you know anyone who was kidnapped here during the war? My investigation carries me through the many districts around the "Green Line", which used to divide Beirut between East and West, where militias set up their checkpoints, and where numerous crimes and kidnappings took place. I thereby attempt to trigger the process of memory, attempting to reveal the multiplicity of existing discourses on the war and the immensity of the drama. As I cross town and discover places laden with history, I draw a personal map of this city.
Documentary
Video, 54 minutes
In Arabic (English or French subtitles)
Original Arabic Title: Houna wa Roubbama Hounak
Written, directed and produced by: Lamia Joreige
Co-produced by: 03 productions
Camera: Lamia Joreige
Editing: Michèle Tyan – Djinn house
Sound: Rana Eid, Carol Issa, Ziad Antar
You can find the full version of the documentary here:
https://vimeo.com/375671093
Description
In 2003, Lamia Joreige made Here and Perhaps Elsewhere, following a vehemently straightforward scheme; she would traverse Beirut's green line, carrying some photographs of wartime checkpoints, and address the inhabitants and pedestrians on her way with a uniform question: do you know anyone who's been kidnapped here? They answer poignantly, and in tangents, and often not at all. Towards the end of the film, an anecdote told by one of her interviewees dovetails with Joreige's own personal search for her lost uncle, but even that remains a loose end. In the absence of any resolution to the national case of the 17,000 enforced disappearances that took place over the course of the civil war, Joreige's persistence on forging a methodology out of one repeated inquiry is telling of the lack of historical disclosure that Lebanese artists of the post-war period found themselves operating against.  
Press
If Objects of War is rooted in the voluntary testimonies of people Joreige knew, Here and Perhaps Elsewhere (2003) is a more audacious foray into public spaces and into the lives of strangers. In 2002, Joreige spent three weeks filming at locations along the former "Green Line" boundary between east and west Beirut, interviewing people nearby with the question: "Do you know of anyone who was kidnapped here during the war?" More than 17,000 people had gone missing during the wars and never returned, including her maternal uncle who was kidnapped near the Green Line. She used archival photographs of the old checkpoints, including the one in Mathaf, the area near the National Museum, and tried to find them again in the post-millennium city amid its redevelopment. The resulting 54-minute video shows a spectrum of uncomfortable reactions, with people often initially saying they didn't know anyone but then telling a story that sounds personal nonetheless. Only toward the end of the film does it become clear that Joreige is also looking for someone, in an interview with an elderly couple who reference the disappearance of her maternal uncle. While embarking on this quest to reconstruct the past even in its will-fully or naturally forgotten state—by using old photographs and asking people for their stories, Joreige observes that the film would be completely different if she made it today. The politics and populations of the city have changed, memories have faded, and there are new struggles now. "So in that sense, it is also really a diagnosis of the present," she said.- 
Source:Diagnosis of the present Lamia Joreige. (2017, September). ArtAsiaPacific, (105). doi: https://lamiajoreige.com/wp-content/uploads/2018/11/2017-ArtAsiaPacific-HG-Masters.pdf
More in:
Kalamon n* 0 on artist's website:
http://lamiajoreige.com/wp-content/uploads/2018/11/Kalamon-0.pdf
And essay by kaelen Wilson Goldie:
http://lamiajoreige.com/wp-content/uploads/2018/11/Out-of-Beirut-KWG.pdf