Memory, Art, and a Digital Museum: Collective Curation Workshop, South Africa
When voices are silenced from historical record, when communities are purposely being ignored, or older generations hesitate to share past traumas with new generations – how do you trace the past and remember for the future? Within the gaps of official records and proceeding creeps the powerful voice of art. Art acts consistently through time as a means to discuss and reflect on things that may be impossible to say or to record. In this spirit, curators, artists, and academics from seven countries have banded together to create an exciting new digital space that considers art and memory.
Participating countries came together for a Collective Curation workshop, which took place at the District Six Museum Homecoming Centre from the 22-26 July in Cape Town, South Africa, supported through the Robert Bosch Stiftung and in partnership with the District Six Museum (South Africa), International Centre for Ethnic Studies (Sri Lanka), and Lebanese Association for History Education (Lebanon). The participants were: Annemari de Silva (Sri Lanka), Bonita Bennett (South Africa), Doaa Aladdin (Egypt), Hasini Haputhantri (Sri Lanka), Iyad Mouawad (Lebanon), Mauricio Santoro (Brazil), Nataliya Nikolova (Bulgaria), Natalia Petrova (Russia), and Tina Smith (South Africa). Over a period of three months the homework for each of the participants was a thorough process of identifying and selecting local artists to be presented at the workshop, with the intention of presenting the art that have chosen to each other.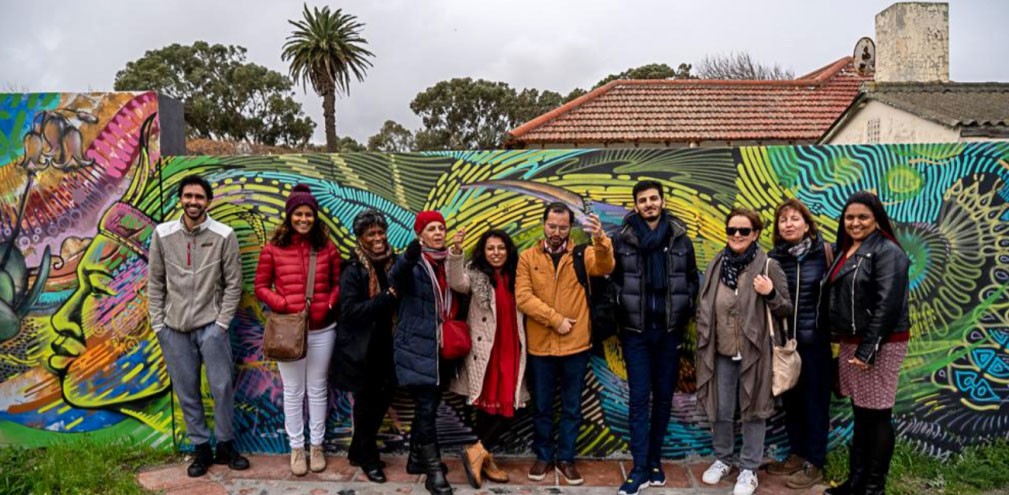 The purpose was to workshop the creation of a digital museum, with each day focused on the content, the aims, presentation of each country and the selection of artists. The discussion concentrated not only on the practical creation of the website but also around its values, audience, and purpose. As the digital age expands into new territories, so is the need to keep up with it and take advantage of it. The world is also set to reckon with a new definition of 'museum', with the International Council of Museums considering different proposals after their Kyoto meeting in September 2019. The Collective Curation workshop thus saw debates around both the 'digital' and 'museum' aspects of the project, including how to avoid the pitfalls of being an online repository. The unique quality of the workshop was that it explored how artists from different contexts are vocalizing global issues. Artists bring awareness and bring these issues to the fore.

Memory
Nataliya Nikolova reflected on postmemory: this term is about how memory is dealt with in the following generations after a devastating or traumatic period like war. Art, then, becomes the medium of expressing postmemory, exploring this relationship between generations and allowing 'connections' to take place. Bonita Bennett explained that a strong awareness of the past and how we remember is crucial. Doaa Aladdin felt that memory marks something in each of us and it is artists who are able to express that.
The advantage to the theoretical framework of 'memory' is its ability to encompass wide-spanning issues, from women's liberation struggles in Egypt and Russia to post-war reconciliation in Sri Lanka and Lebanon. The participants were also able to engage with the site of forced removals in District Six, seeing for themselves the destruction of a community by the apartheid government, allowing them a space to reflect on how the museum deals with art and memory.

Museums & Art
During the workshop, there was great debate around what constitutes art and what the digital museum will showcase. As art is forever pushing the boundaries and there are always new forms of art being created. Questions that arose were: could literature be considered art, or performances? In the end it was decided that visual art, including performance art and spoken poetry would form part of the initial works presented. As the digital museum grows there will be more space for other forms of art to be included. At this stage, the following forms were considered for inclusion: paintings, photographer, digital art & visual design, mixed media, street art, performance art, sculpture, installation, animations and comics, short films, and documentaries.
The participants each presented artists that they have selected from their country. For example Doaa Aladdin presented, fashion designer Farah Wali. Doaa chose her because her work reflected her agony of women being attacked during the revolution. Doaa highlighted the fact that freedom was only reserved for men. This irony is precisely one of the purposes of the digital museum: to showcase an artist's ability to capture the essence of an issue through art.
South Africa
When not in the workshop the participants also explored parts of Cape Town. After having lunch in the returnee section of District Six, they were led on a powerful guided walk by Bonita Bennett and Tina Smith. For Mauricio Santoro, looking at the empty space of destruction, he felt he could feel how alive the history was. The participants also travelled to Greatmore Studios, an artist residence that focuses on alternative artists and audiences. They then had lunch in the township of Langa, and visited Guga S'thebe art centre. Guga S'thebe not only provides a space for local artists to showcase and sell their work, but it also runs programs to provide youth with critical skills in entrepreneurship and managing a small business. A guided tour was arranged for the participants through the historic district of Bo-Kaap. The Bo-Kaap is an area of Cape Town that is famous for its colourful houses and its rich history. Many freed slaves settled in the Bo-Kaap and it is known to be one of the most intact neighbourhoods containing pre 1850 architecture. The tour ended with a traditional cape malay band and koeksisters (a local confectionary). Koeksisters are a local cape malay confectionary, and it is dough containing mixed spice, aniseed and cinnamon which is fried and dipped in syrup and then rolled in coconut. After the workshop was concluded some went paragliding seeing Cape Town from a perspective only few get to see. There was also Supper Club, a monthly event run by the District Six Museum and hosted by Bonita Bennett. The participants were the focus of the evening and they were given the opportunity to share what was happening at the workshop. Natalia Petrova responding to a question emphasized how art allows us to breathe during these historical events.
Though the team has put together the values, mission, and general parameters of the museum, the final title and logo of the site are still under discussion. The museum is set to have a mock-up with all content ready by April 2020 and will set to launch soon after. The team hopes to then work on more offline initiatives, such as artist residencies and exchanges.