Broken Stupa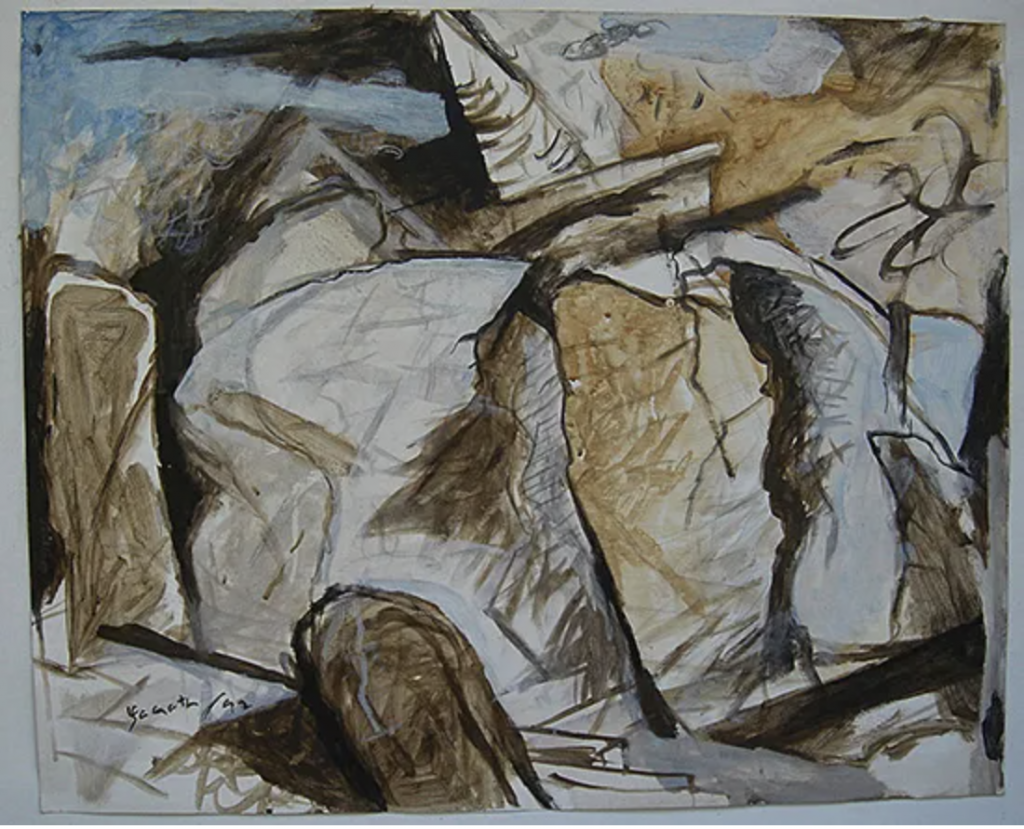 Description
The Broken Stupa is one of Jagath's earlier works, completed right after his returned to the island after his studies in the USA. His reverse culture shock is possibly accentuated by the socio-political disarray the island went through in the 1990s. Sri Lanka was recovering from an insurgency in the so-called 'Sinhala Buddhist South', and still fighting protracted civil war in the 'Tamil Hindu North', if one may resort to such simplifications for the sake of brevity at this point. The idea of continuity of the ethno-religious identity categories is a central historical narrative in Sri Lanka. This is captured in the 'wewa – dagaba – gama – pansala' idiom which directly translates into pairings of 'tank/reservoir – stupa and village – temple' signifying the nexus of agrarian economy, community, religion and the overarching omnipresence of religion in the physical architectural form of the stupa (dagaba). 
The stupas of Sri Lanka are parallel to the Pyramids of Egypt. Originating in India, the stupas were constructed across the dry zone tank civilization that flourished in the island from around 3rd century BCE to 13th century CE by the ruling monarchs. It is hardly an overstatement to say that it is the dominant architectural form that defined a millennium and continues to do so today, where the island's religious majority is still the Buddhist.
Jagath, as a Buddhist, depicts this perfect, sacred architecture as broken and scattered, signifying a civilization undone at its core despite its clinging to past glory, it is almost sacrilege. Instead of projecting its serene perfection – signifying the subliminal state of nirvana – Jagath projects the chaos that he witnesses in his contemporary society, through the broken-ness of the stupa. In fact, he is projecting the lack of that subliminal state, the core Buddhist values the majoritarian Buddhist polity no longer possesses. His rhetorical question 'And why do I think that I can make a perfect painting when everything else in the world is totally screwed up and collapsed…?'(1) sums up these sentiments perfectly. 
Broken Stupa is not the only work of Jagath in which he projects the disorientations of the present he lives in, through the past – through archaeological, architectural and art historical forms provided to him through his past – which certainly influence his sense of identity. And Jagath is not the only artist in Sri Lanka who traces the historical trajectories through their contemporary compositions. Artists like Bandu Manamperi, Pala Pothupitiya, Anoli Perera, Koralagedara Pushpakumara all boast of a portfolios that are rich in material drawn from the past and is in dialogue with historical narratives of the past.
Reference